'With 27 days to go, the total bank deposits has come tantalisingly close to the Rs 14 lakh crores of banned notes which was in the financial system on November 8.'
'Black money hoarders may have actually laundered their black money into white,' argues Rajeev Sharma.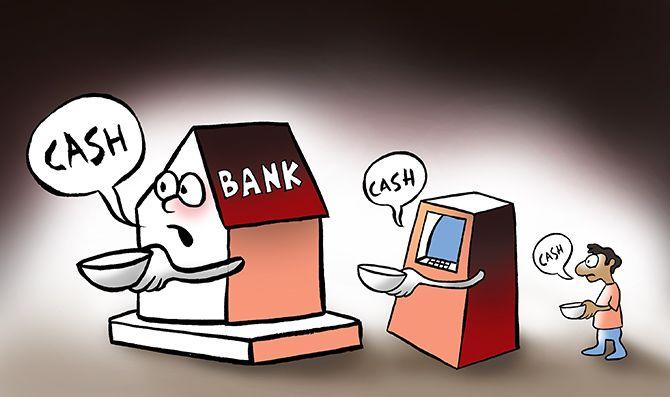 The total bank deposits -- since November 9 when 500 and 1,000 rupee notes were demonetised -- has reached Rs 13 lakh crores till December 2, according to knowledgable government sources.
By December 30, the last date for depositing the banned notes in bank accounts, this figure is likely to cross Rs 17 lakh crore.
This is bad for the following reasons:
More deposits than the available money in the system before demonetisation increases government liability and weakens its financial architecture.
It exposes the government claim of unearthing black money. Black money hoarders may have actually laundered their black money into white by taking advantage of loopholes in government schemes.
This will expose the Modi government to a frontal attack from the Opposition, which will say that instead of achieving its stated objective of demonetisation, the government has attracted more black money because of its sloppy implementation.
This is a gloomy scenario for the Modi government, both economically and politically.
That's because on November 8, the day when 86% of the total currency in circulation was banned, the banned currency totalled Rs 14 lakh 73,000 crore.
The government's initial projections were that of this Rs 14 lakh crore, at best Rs 10 lakh crore would be returned, thus giving a windfall of Rs 4 lakh crores or around $57 billion.
If this were to happen it would enable the government to claim that it had successfully netted 'black money' of Rs 4 lakh crore.
However, even before the half-way mark -- the 50-day period announced by Prime Minister Narendra Modi for Indians to deposit banned currency notes in their accounts -- the total bank deposits so far has come tantalisingly close to the figure of Rs 14 lakh crores of banned notes which was estimated to be in the financial system on November 8.
And this when 27 days are still left for the last day to deposit the banned notes.
If indeed the bank deposits reach Rs 17 lakh crore rupees or thereabouts on December 30, as is being projected by knowledgeable sources, it will not only negate the very purpose of Modi's demonetisation drive, but will add enormously to the government's liabilities.
It will also put pressure on the rupee vis-a-vis the US dollar and given the upward trend in international oil prices hurt the economy.
Politically, it could have an adverse impact on Modi and his ruling Bharatiya Janata Party.
The big political fallout will be the coming assembly polls in five states, including the all-important state of Uttar Pradesh.
The BJP cannot delude itself that its victory in the post-demonetisation civic elections in Maharashtra and Gujarat will be replicated in the five state elections.
Modi has been accused by his detractors of running a presidential form of government wherein he is the sole decision maker.
Nothing indicates this more graphically than his November 8 mega decision about which only Reserve Bank of India Governor Dr Urjit Patel and Economic Affairs Secretary Shaktikanta Das were kept in the loop.
Three key pivots in the finance ministry -- Finance Minister Arun Jaitley, Finance Secretary Ashok Lavasa and Chief Economic Advisor Arvind Subramanian -- were not consulted.
Modi embarked on the demonetisation drive primarily with an eye on the assembly elections in Uttar Pradesh, Punjab, Goa, Uttarakhand and Manipur, likely to be held in February-March.
Bad economics may well prove to be bad politics for Modi and the BJP as millions of Indians line up in long queues outside banks and ATMs across the country to withdraw their own money and who have not been getting even the rationed cash after waiting in the queues for hours.
It is a long haul and there is no magic wand to shoo away the cash crisis. Consider these facts:
The RBI could print currency notes in its four presses to the tune of Rs 2,700 crore daily. This has now been increased to Rs 4,000 crore daily, but the daily requirement is Rs 13,000 crore.
It takes 9 days for the making of a currency note. One currency note costs the exchequer Rs 37, irrespective of its face value.
The printing presses can't run non-stop for 24 hours and need to switched off for three hours in a day.
Clearly, the Modi government has bitten much more than it could chew.
Rajeev Sharma, a political and strategic affairs analyst, tweets @Kishkindha