The finance ministry and the RBI have performed many somersaults in these last 42 days.
N Sundaresha Subramanian reports.
Illustration: Dominic Xavier/Rediff.com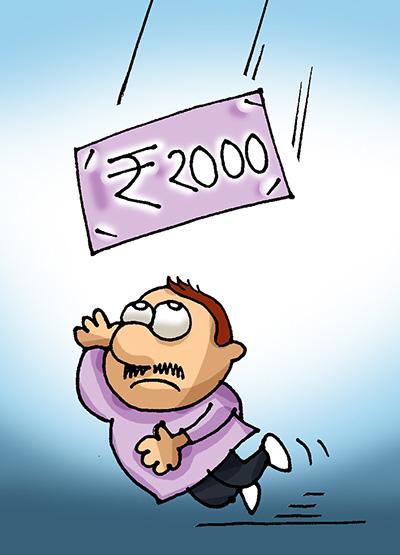 While he was addressing the nation on November 8, Prime Minister Narendra Modi's much-followed twitter handle @Pmoindia tweeted a meme titled 'Rs 500, Rs 1,000 cease to be legal tender, Here's what you can do.'
The first of the five steps listed was: 'Deposit old notes of Rs 500 or Rs 1,000 in bank or post offices accounts from 10th November till December 30, 2016 without any limit.'
Four days later, Union Finance Minister Arun Jaitley said, 'Everyone need not come to deposit old notes in the beginning days itself, you have time till December 30.'
More than a month later, on Monday, December 19, the Reserve Bank of India-Finance Ministry notification said: 'Tenders of SBNs (Specified Bank Notes of Rs 500 and Rs 1,000) in excess of Rs 5,000 into a bank account will be received for credit only once during the remaining period till December 30, 2016.'
The notification further said, 'The credit in such cases shall be afforded only after questioning (the) tenderer, on record, in the presence of at least two officials of the bank, as to why this could not be deposited earlier and receiving a satisfactory explanation.'
The notification, which has since triggered outrage and mockery on social media and outside it, told banks to record the explanations of customers 'to facilitate an audit trail at a later stage.'
Former Union finance minister P Chidambaram called these 'desperate measures' of a desperate government.
Congress Vice-President Rahul Gandhi was more scathing: 'RBI is changing rules like the PM is changing clothes.'
A petition has been filed in the Supreme Court, saying the move is in violation of the RBI Act. Some reports said a fresh notification was being issued.
The latest notification was counted as the 59th from the North Block-Mint Road combine in the past 42 days.
Exchange up to Rs 4,000... then indelible ink, then only Rs 2,000, and then no exchange
When the finance ministry notification on November 8 said the limit of Rs 4,000 for exchanging specified bank notes shall be reviewed after 15 days, many expected the limit to go up as the supply became more regular and the queues shortened.
None of the two happened. Within seven days of the announcement, on November 15, the government said people who took new notes and returned old ones would have their fingers marked with indelible ink so that they could not exchange notes again.
Two days later, on November 17, it cut the exchange limit to Rs 2,000.
One explanation given was that some people were charging depositors up to Rs 500 a day for doing the exchange work.
Rs 2.5 lakh withdrawal allowed for wedding, but with conditions that cannot be met
Again, on November 17, the government announced that a member of the family that's holding a wedding ceremony could withdraw up to Rs 2.5 lakh (Rs 250,000).
The conditions that the RBI laid down later made the relaxation sound absurd.
Some of the conditions were: Withdrawals were permitted only from fully KYC (know your customer) compliant accounts; the amounts could be withdrawn only if the wedding date was on or before December 30; and the withdrawals could be done by either of the parents or the person getting married and only once at that.
And, it had to be established that the persons to whom the payment was proposed to be made did not have a bank account.
Currency in stock versus currency in circulation
In a reply to a query in Parliament, Minister for State for Finance Arjun Ram Meghwal had said the number of Rs 1,000 and Rs 500 notes in circulation totalled Rs 15.44 lakh crore as on November 8.
But, with three weeks to go for the December 30 deadline, the RBI said Rs 12.44 lakh crore had been deposited by December 10.