'The industry growth in 2016 came from the new digital technology segment which grew at over 20%.'
'The challenge for the industry is that the legacy business makes up almost 80% of revenue.'
'Hence the urgency to transform into digital business.'
Ayan Pramanik reports.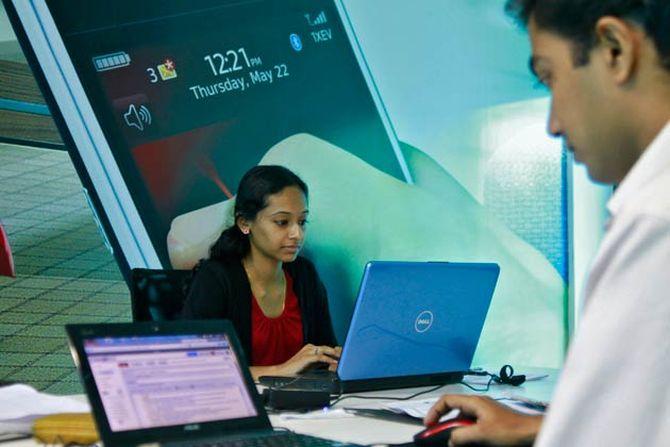 The information technology sector had to reduce growth numbers for only the second time in a decade, the first being after a US recession triggered by the Lehman Brothers collapse.
This time, they faced challenges due to automation and shifting investments in digital, the UK's exit from the European Union and an unexpected victory for Donald Trump in the US presidential election.
The biggest shift has been in the growth of digital, which Indian firms are struggling to grapple.
Services on digital technologies -- software that work seamlessly, with better user interface, on devices such as smartphones -- is growing. However, the business needs experts working with clients at their locations in the US and UK.
This is in contrast to the existing business models of IT entities, where they locate 8 out of every 10 staffers, leveraging the cost arbitrage to deliver services or maintain servers remotely for global customers.
"The industry growth (in 2016) came from the new digital technology segment which grew at over 20%. The challenge for the industry is that the legacy business makes up almost 80% of revenue. Hence the urgency to transform into a digital business," said Peter Bendor-Samuel, founder and chief executive, Everest Group, an IT researcher.
Globally, Microsoft bought LinkedIn to engage with its corporate customers to deliver better insights.
IT services companies such as IBM, Infosys, Wipro, focused on cloud and digital technology, and looked at consolidation of services, says Sanchit Vir Gogia, chief executive, Greyhound Research.
"Software services firms have seen a mid-market consolidation and they realised the need for cutting a lot of fat from their system," he added.
<u.
As more IT service companies saw pricing pressure from clients, they increased the focus on automation and artificial intelligence.
Wipro, Cognizant, Infosys and HCL made significant investmentin buying smaller firms to improve digital technology capabilities.
Two buyouts in emerging areas by Wipro -- HealthPlan Services for $460 million and Appirio for $500 mn -- were among the big ones in the sector.
Cognizant, Infosys and HCL equally bought smaller firms to bridge gaps in digital technology strategy.
Many of the large IT firms set aside funds for investments in start-ups that have built strengths in emerging technologies to bridge gaps.
The buyout spree can be attributed to the industry's immediate need for transformation, say experts.
It has seen much headwind, thanks to geo-political events like Brexit, and the uncertain policy environment that would emerge out of Trump taking over as president of America.
In the run-up to the elections, he had indicated penalties for firms that outsource services, naming IBM.
The IT services sector keenly watched both events and saw some tough quarters, owing to uncertainty in the global economy.
Infosys and Cognizant, the US firm which adopts the offshoring model, cut their own revenue forecasts as they struggled to grow due to pressure on pricing and with uncertainty over global decision-making.
Others saw poor or flat growth in revenue during the calendar year.
The change of power in the US, one of the biggest IT service outsourcers, has made IT firms cautious, also as Trump won with a promise on strict immigration laws.
After becoming the president-elect, one of the first things he told IT giants was not to replace jobs in the US with talent from other countries like India.
This prompted a promise to increase local hiring, at least for emerging technology jobs, even when they are aware of a talent crunch there.
Many companies released people from repetitive jobs and focused on automation.
While a lot of these people have been put on other projects, experts raised concern over adequate projects in digital technology areas for redeployment.
2016 saw global researchers saying that automation was killing jobs in IT services, albeit gradually.
Large IT services enterprises, both Indian and global, have seen emergence of new peers in start-ups having expertise in digital technology and cloud.
While 2016 has seen this trend with companies like IBM and Amazon Web Service vying for the same contract, adds Gogia, the sector would see more such stories going forward.
So, a bigger battle in 2017.
Photograph: Sivaram V/Reuters