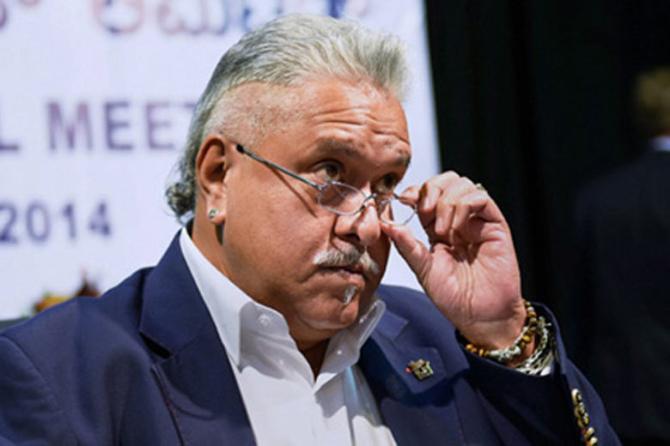 IMAGE: Vijay Mallya. Photograph: PTI
RPG Enterprises Chairman Harsh Goenka thinks aloud about what Vijay Mallya could or should do to get out of the current mess.
With every passing day, the Vijay Mallya saga brings new troubles for the former 'King of Good Times.'
He seems to have become the favourite punching bag of the media and the authorities alike for a variety of reasons, though he is neither the largest defaulter by miles, nor in the true sense a criminal offender.
Here's some loud thinking on my part on what perhaps Mr Mallya could or should do to get out of this mess.
And possible learnings for India Inc.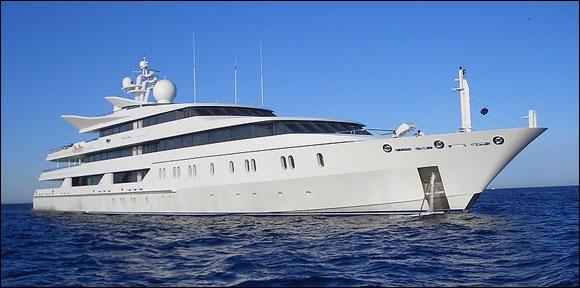 IMAGE: Mallya's yacht, the Indian Empress. Photograph: Kind courtesy, Wikimedia Commons
First and foremost, he must take care of his employees' dues without further delay.
Much of the public ill will he has generated is due to the sympathy factor for his ex-employees.
This amount, which is meagre by his standards, should be disbursed immediately.
He also must remain low key.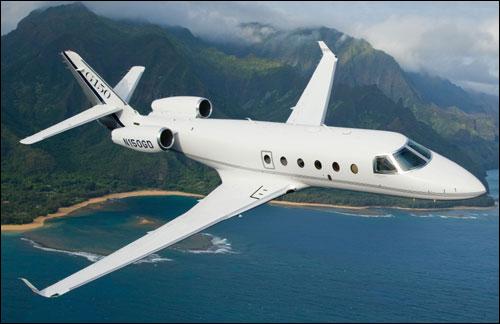 IMAGE: Mallya's jet. Photograph: Kind courtesy, Wikimedia Commons
In our country simplicity is greatly revered.
It does no good to his predicament to be seen on racetracks or indulging in high stakes sports ventures which appear as if he is 'flaunting' his 'high profile' lifestyle with a 'couldn't care less' attitude.
This adds to the feeling that he has no remorse for his financial difficulties.
Azim Premji, Dilip Shanghvi and N R Narayana Murthy are cases in point.
They lead lifestyles the common man can identify with despite their immense wealth.
They are also making tremendous contributions to education and societal upliftment that only adds to the adulation and respect they command. It seems to positively impact their market capitalisation too.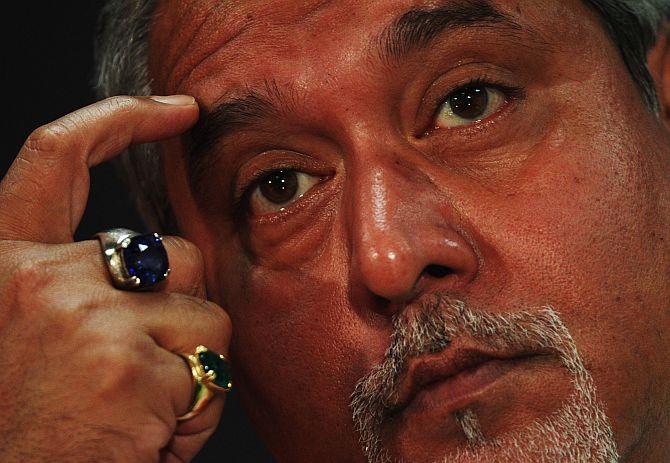 IMAGE: Mallya attends a press conference at the Monaco Formula One Grand Prix. Photograph: Vladimir Rys/Getty Images
Culturally in India, people do not resent the rich. But when wealth is flashed openly and living 'the good life' is felt to be beyond certain acceptable norms, then public opinion takes a U-turn.
IMAGE: Mallya at the F1 Rocks India Afterparty. Photograph: Andrew Caballero-Reynolds/Getty Images
When you have over 100 cars, private planes, luxury yachts and houses all over the world, it triggers deep adverse emotions.
At the same time, Mr Mallya needs to start a serious dialogue for settlement with the banks.
Unfortunately, since it was not settling at the right time, this case has taken on political undertones and has become emotionally charged, making it harder and complex to settle.
Therefore, unless a reasonably generous repayment is offered, given the limelight this issue has garnered, the banks will find it very difficult to accept.
He also needs to realise that he should avoid controversy.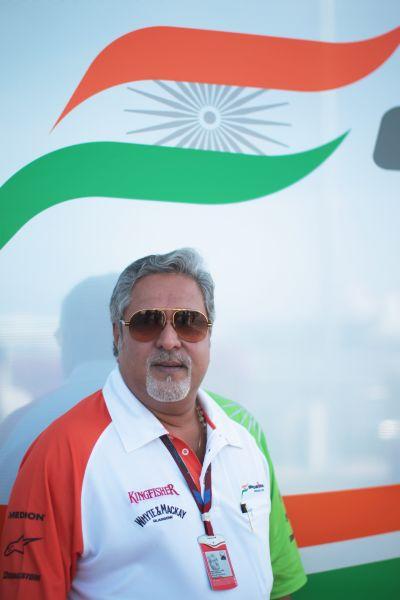 IMAGE: Force India team owner Mallya at the European Formula One Grand Prix. Photograph: Mark Thompson/Getty Images
All his movements and actions are now seen via magnifying lenses. I wonder why he went for a book launch, generating fresh negative publicity and discussion on whether he was invited, who invited him, etc.
Why be seen in a public gathering when you could be ensconced in your lovely comfortable home in Hertfordshire?
No one doubts his skills in business.
Mr Mallya inherited a robust business and grew it exponentially with path-breaking deals.
There was Berger Paints, Whyte & Mackay, Shaw Wallace. He seemed the only corporate honcho capable of doing things on a scale few dared to.
And he even found time to pursue his passion for sports while running a business.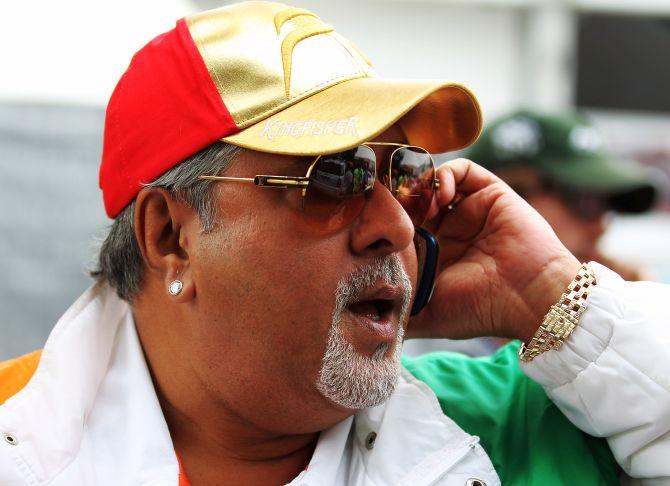 IMAGE: Mallya at the Australian Formula One Grand Prix. Photograph: Mark Thompson/Getty Images
He was into horse racing, owning the IPL Royal Challengers Bangalore team, an F1 team and football clubs.
He smartly built his business brands of Kingfisher and Royal Challenger by marketing them through sports.
I think there are several takeaways from the Mallya episode that could be important lessons for Indian corporates.
When your companies are making losses, it is important for people to perceive your efforts to change the situation.
Continuing to live the high life -- buying a Caribbean cricket team or throwing lavish birthday parties -- can have a lethal backlash, as these tend to be construed as splurges at the cost of the common man.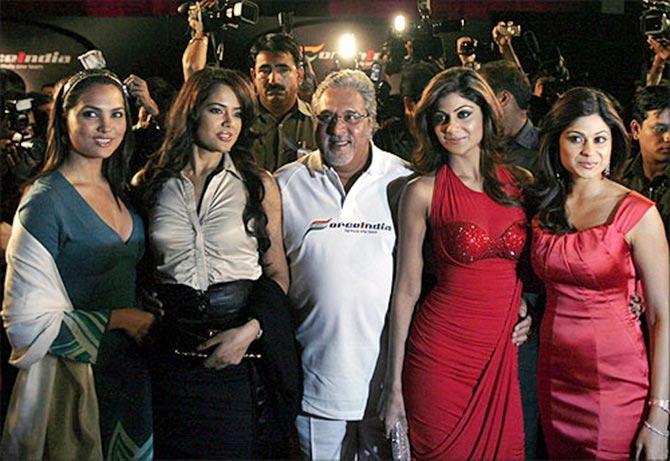 IMAGE: Mallya developed something of a 'wild child' image. Photograph: Reuters
Being open to honest advice is vital.
It is important to surround yourself with friends and colleagues who can give you frank advice and honest opinions.
If you only have friends who are there for the good times, you will find yourself alone when the tide turns.
Rational decision-making: If a certain business model is not capable of generating profits even after sufficient effort, it is wiser to get out of the business.
Hubris, ego, arrogance or a belief that nothing is impossible for me, is self-destructive.
When Mr Mallya bought over the floundering Deccan Airways, a low-cost airline incompatible with his usual flamboyant style, the marriage was bound to fail.
Corporate governance: While running large enterprises with several stakeholders, corporate governance has to be given its due pole position. You cannot use company funds to maintain your larger-than-life lifestyle.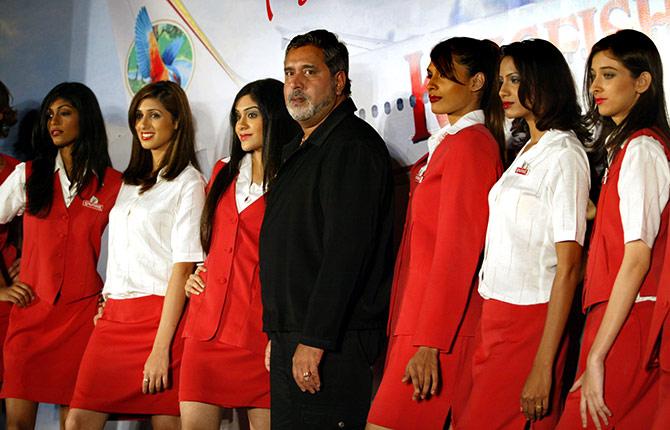 IMAGE: Mallya personally chose airhostesses, made in-flight announcements, hired expensive foreign pilots for Kingfisher. Photograph: Reuters
Ensuring good talent: Good corporate governance attracts good talent.
However, if your managers cannot question, have to wait for hours for a meeting and are not given due respect, you will be surrounded with 'yes' men.
Not over-leveraging: You can leverage your acquisitions up to a point, but ultimately the cash flows have to be generated.
If you don't monitor the debt-equity ratios and keep on borrowing, the writing is on the wall.
Mr Mallya kept throwing good money after bad endlessly.
IMAGE: For his 60th birthday, Mallya flew in Enrique Iglesias to perform at his villa in Goa. Photograph: Vijay Mallya/Twitter
And that is why he finds himself at the receiving end.
Focussing on the core: Too much diversification can affect your competence.
Liquor was a great cash cow, but Mr Mallya ventured into too many areas -- pizzas, soft drinks, airlines, engineering, fertilisers, and brought them all down.
Politics is not protection.
You cannot abuse your public position for furthering your personal agenda. Being an MP offers only a very small shield.
It is indeed very tragic that things for Vijay Mallya have come to such a sorry pass.
But as he himself has said, he is no absconder, so I do hope he still has some 'spirit' left in him to pay his bankers and bring the good times back.
Harsh Goenka is Chairman, RPG Enterprises.