Former India opener and sports commentator Navjot Singh Sidhu has rubbished reports about his exclusive contract with ESPN-Star Sports channel being terminated.
"I owe ESPN-Star a debt of gratitude. They have been the nursery which has nurtured me and I shall always be indebted to them.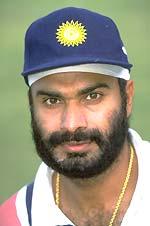 "But right now, I am not sure what is happening.
"As far as I am concerned I have received no notice from ESPN-Star. So the question of me leaving ESPN-Star does not arise," he said.
ESPN-Star Sports Corporate Communications head Himanshu Verma also denied reports that Sidhu's association with the channel is over. He said his [Sidhu's] contract is "being changed from an exclusive one to a non-exclusive one."
He, however, refused to comment on who mooted the idea of altering the contract, saying in such cases the contractual changes are always mutual.
The confusion, however, remains, as Verma added: "As of now a status quo remains on the contract. It means that Sidhu is still with ESPN-Star."
One source told rediff.com there was a move to sack Sidhu, famous for his one-liners -- Sidhuisms -- for the last two months, because of two comments the Sardar made.
One was in April, during the Bangladesh-South Africa match in Dhaka. Sidhu got into a verbal spat with fellow commentator Alan Wilkins. He is said to have sworn at Wilkins, saying, 'Don't f*** around with me,' which was captured by one of the microphones and reported to the producer.
When contacted by rediff.com in Hong Kong, Wilkins refused to comment about the incident and said he is unaware about Sidhu's sacking.
A month later, at the ESPN school quiz prize-distribution ceremony in Kolkata, Sidhu compared the Board of Control for Cricket in India to a chameleon, saying it lacks in transparency.
His criticism of India skipper Sourav Ganguly during the World Cup in South Africa caused huge problems for the channel after most of the Indian players boycotted ESPN. Ganguly dismissed Sidhu as a joke after the commentator criticised him and the team on-air following the loss to Australia at the start of the World Cup campaign.
Sidhu earned his stripes with a commentary style that was his very own, though it often defied logic. His comments evoked laughter and generated a nationwide following.
"It is only after I left cricket that learnt the true meaning of self-belief. I started meditating for long hours. That is when all my ideas strike me," Sidhu told rediff.com in a telephone interview on Tuesday morning from his home in Patiala. "I keep a notebook next to me in which I write all the pure and pristine thoughts that I reflect on while meditating. That is what you hear in the commentary."
"I tried to cultivate a style of my very own, be original and unique," he said. "People liked that and they called it Sidhuisms. It is the voice of the people."