Reader
Prakash Bhargava
sent us these pictures.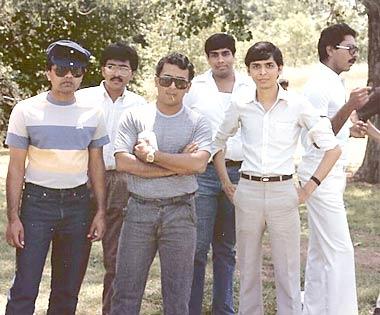 "I was doing my masters in Mechanical Engineering at University of Oklahoma. In 1985 the Indian cricket team was playing an exhibition match at Tulsa, Oklahoma. I am wearing the striped T-shirt and blue cap," writes Prakash.
"The interesting thing was that due to lack of publicity the crowd was not there and Sunil Gavaskar (centre) did not play in the match. People would stand on either side of him, take pictures and move on as if he was a statue, without talking to him.
"When my turn came I was in awe of his accomplishments and couldn't believe my luck and just asked: 'How are you doing?' His answer was 'Fine'."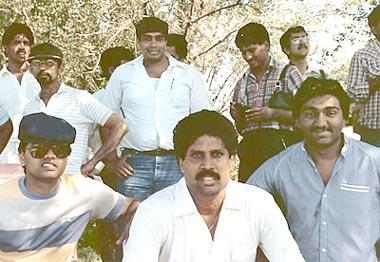 "Kapil Dev (centre) played very well in that match and I was shouting for him to hit a sixer in our direction. After the innings I shook hands with him and complimented him for his batting and asked him why he didn't hit the sixer. His reply was 'Koshish tho bahut kee thi (I really tried hard to do so)'. He is a very nice down-to-earth person."
If you encounter your favourite cricket/sports personalities, send us your photograph on sportsdesk@rediff.co.in. We will feature the best images right here on Cricket or Rediff Sports.