Karun Nair is only the second Indian to score a triple century.
Rajneesh Gupta looks at a memorable innings.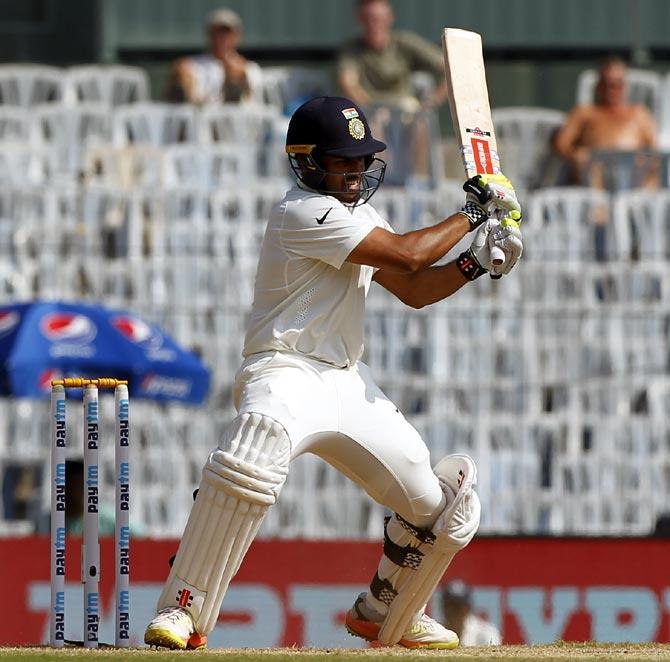 IMAGE: Karun Nair on bhis way to a triple ton. Photograph: BCCI
1 Number of Indian batsmen to have scored a triple hundred in Tests before Karun Nair -- Virender Sehwag, who made 309 versus Pakistan at Multan in 2003-2004 and 319 versus South Africa at Chennai in 2007-2008.
2 Number of higher individual scores in Test cricket at number five or lower than Nair -- Michael Clarke's 329 not out against India at Sydney in 2011-2012 and Don Bradman's 304 at Leeds against England in 1934 -- both at number 5.
M S Dhoni's 224 versus Australia at Chennai in 2012-2013 at number six was the previous highest for India.
V V S Laxman's 200* vs Australia at Delhi in 2008-2009 was the previous highest by an Indian at number 5.
3 Number of innings Nair took to score his first triple hundred in Tests -- the least by any batsman.
The previous record of being the quickest to a triple hundred was held by England's Len Hutton, who did so in his 9th innings.
Virender Sehwag held the previous Indian record with his maiden triple hundred in his 34th innings.
3 Number of batsmen to convert their maiden Test hundred into a triple hundred.
Nair joined Gary Sobers (365* versus Pakistan at Kingston in 1957-1958) and Bob Simpson (311 versus England at Manchester in 1964).
25 Years, 13 Days -- Karun's age while scoring his triple hundred.
He is the youngest Indian and sixth youngest in all Tests to reach this mark.
26 Number of players to score a triple ton in Test cricket.
This includes 6 Australians, 5 Englishmen, 4 West Indians, four Pakistanis, 3 Sri Lankans, 2 Indians, 1 New Zealander and 1 South African.
232 Runs scored by Nair on the fourth day of the Chennai Test (from 71* overnight to 303*).
Only Virender Sehwag (twice) has scored more runs in a day's play for India.
Nair's 232 runs are the most by ANY batsman in a Test on the fourth day or later.
New Zealand's Nathan Astle had made 222 runs on day four at Christchurch against England in 2011-2012.
235 The previous highest Test score by an Indian player against England before Nair.
Skipper Virat Kohli had scored this in the previous Test at the Wankhede Stadium.
381 Balls taken by Nair to race to his triple ton.
Only four players have reached the 300 mark in fewer balls than Nair -- 278 balls by Virender Sehwag (versus South Africa), 355 by Wally Hammond (versus New Zealand), 362 by Matthew Hayden (versus Zimbabwe) and 364 by Virender Sehwag (versus Pakistan).