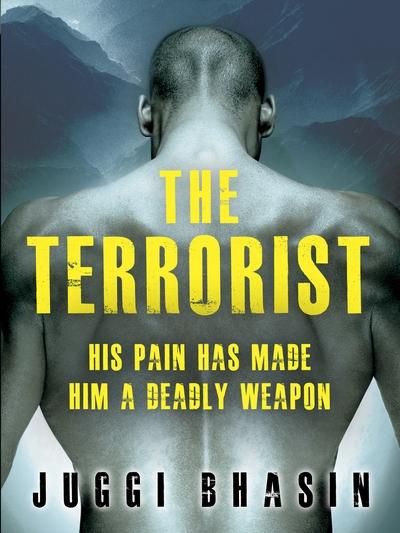 We present to you an exclusive excerpt from Juggi Bhasin's book The Terrorist. Read on!

Juggi Bhasin's novel, The Terrorist looks at the lives of Suvir a promising young army commando and Murad, a dreaded terrorist threatening to carry out a horrifying attack on India's capital. In more ways, Murad and Suvir are foils to each other, two sides of the same coin, circumstances transforming them into who they eventually become.

In the excerpt that follows, we see how a young educated middleclass Muslim, Murad having been at the receiving of religious bias finally crosses the line and goes over to the dark side.

Hate was clawing in him as he wound his way back home on his scooter. It was a little after six, but there had been a sharp drop in temperature from the daytime high. A small crowd was milling around the butcher's shop and excited voices mixed with raucous laughter could be heard as far away as the pindi katra, which was a good thirty metres from the butcher's shop. It was still early evening and the shop owner could be seen fanning a small fire on the coal bed of the meat grill. A curl of smoke and sparks rose up in the cold, grey sky.

Murad was near the turn at the toy factory when he heard a girl scream. There was a familiar ring to that scream. Murad accelerated the scooter and entered his lane. He killed the engine and taking off his helmet he parked the scooter in the small opening from where the lane curved in. Then he heard another scream and he began to run towards the butchery.

At first he could see nothing as more than a dozen, raggedly dressed and inebriated local toughs were trying to snatch at something in their midst. A man with sunken cheeks and the grime-coated hands of a car mechanic was waving a duppata in the air and whistling repeatedly to egg on his friends. Murad pushed into the crowd which parted a little, just enough for him to see two denim clad locals in the crowd feeling Ruksana's breasts and another pinching her cheeks. Ruksana, hysterical and coated in dust, was whimpering inconsolably.

The pain, frustration and raw anger of the last few days merged into a single focal point of extreme violence in Murad. His mouth closed in a tight line and he sprang like a maniacal wolf and smashed the scooter helmet in the face of one of the molesters. The molester's cheek bone fragmented and he howled with pain as he let go of Ruksana.

Ruksana got up and ran to the shop but Murad went after the molester and continued to smash his helmet in his face, cleaving raw ribbons in the wasted face.

'You sick b*****ds, I will cut open all of you!' screamed Murad as he beat the molester in a frenzy. The suddenness of Murad's attack stunned the other molesters who withdrew. But the leader of the pack knew better and screamed to the others to regroup. There was a scuffle as four men tried to pin Murad from the back. A couple of others finally wrenched their mutilated friend away from the murderous arc of Murad's weapon. The entire gang descended on Murad and viciously punched and kicked him. He doubled up in pain and the gang leader came up to him and commanded, 'Okay straighten him up and hold him firmly from behind. And get that little bitch from the shop. She's hiding out there. I know who he is. He is that little w***e's brother. Bring him closer!'

A switchblade appeared in the leader's hand.

'Okay, brave brother I am going to cut you up. And while you bleed you can watch us taking turns as we rape your sister! Right here in this street! And let me see what the f*** you or anyone else can do about it!'

In that instant the deceptively feeble looking Murad completed his metamorphosis from a middle class youth who compromises with his frustrations and anger to a man who was going to do something about it. A new entity capable of inexhaustible violence was straining at the leash.

As the switchblade swiped through the air inches away from his cheek, Murad tilted his head and met the impact full face. A gash opened up from his lip to the jaw, but this manoeuvre helped him to close his teeth on the leader's wrist and bite off a large piece of flesh from there. The leader doubled up in shock and pain when he saw a part of his hand fall to the ground. Murad broke free from the vicelike grip and smashed his elbow into the face of the man next to him and sprinted for the shop.

Inside the dark shell of the shop he could make out Ruksana cowering next to a rectangle-shaped pit full of butchered waste from poultry. But he had no words of comfort for Ruksana. Instead he picked up a cleaver lying on a tree stump and went out of the shop and began hacking at the group of molesters. The sharp blade effortlessly sliced through limb, arm and somebody's lower stomach, a toe, somebody's leg. Cries of pure agony rent the chilled air. Foam-like clouds of blood particles hung in the air and there were small body parts strewn all around.

Murad dragged the leader of the gang inside the shop and forced his head to rest on the tree stump. He positioned the cleaver close to the neck. Murad's eyes radiated a maniacal light. 'I will say this only once to you, mother*****r, so listen very carefully. You and your men will pick up every body part, limb, finger, gut, everything and get out of here. If ever any one of you reports this incident to the police or comes near this place, or plans to get back at me, I promise you, I will cut off your p******, stuff them in your mouths and set all of you ablaze. Understand that!'

The leader of the gang, half conscious with pain slowly nodded. Murad released him and looked for Ruksana. She was splattered with blood, but it was not her own. He held out his hand. 'Come Ruksana, let's go home.'

Ruksana began to shiver violently. It is not every day you get to see a person you have known all your life, who has been close to you, who has cared for you, transform into an unknown, dark being capable of the most horrific violence beyond any kind of imagination. But Ruksana had just seen her brother change before her very eyes. And even her young mind told her that her brother had crossed over to a realm where he could never be reached.

Excerpted from The Terrorist by Juggi Bhasin with the permission of publishers Penguin Books.