You'll be forgiven for salivating over these droolworthy pics that will give you a 'foodgasm'!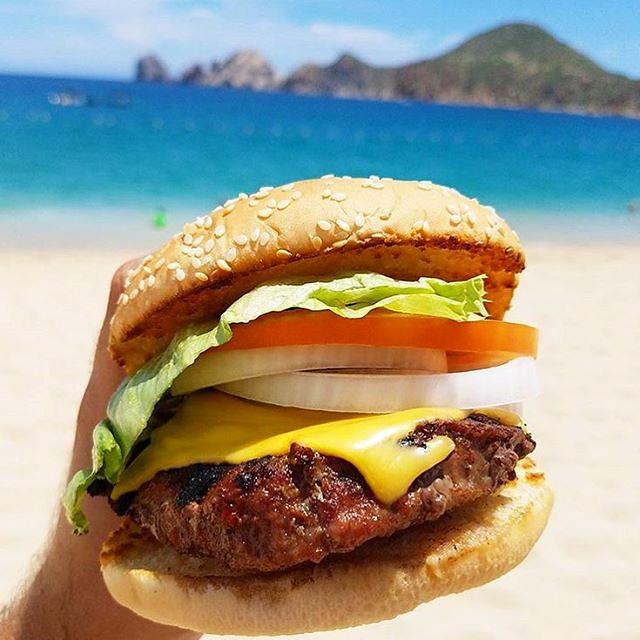 Photograph: Kind courtesy Foodintheair/Instagram
Eat. Click. Upload. Their life runs in a loop. :)
Their pics are a visual treat to our eyes. One look at it and you could go into a food comma.
These Instagram foodies can put some of the top sous chefs to shame with their kitchen hacks.
And you can't beat them when it comes to their knowledge of food; they're always right.
Among them is a self-thought baker, a 'masterchef mom' and author of a popular cookbook.
Presenting Part 1 of our series on Top 14 Instagram foodies to follow in 2017.
Feast your eyes!
Dear readers, if you have delicious food pics from your culinary escapades or adventures in your kitchen, you can share them at #RediffFoodies and get featured!
1. Branded_bawi
Followers: 3,721
Mumbaikars, you should follow her to get food updates from your city -- she's the one who will tell you about tiny hole-in-the-corner restaurants in your neighbourhood.
A clinical audiologist and speech language pathologist by profession, Branded Bawi aka Zenia Irani's real passion is food. Her posts are all about eating, cooking and exploring new cuisines in the Maximum City.
Her Parsi influence trickles down to her Instagram page and she has introduced followers tolesser-known treats like sev tameta nu shaak (curry prepared with sev and tomato), schezwan locho (a Gujarati recipe combined with Chinese sauce) and paneer jalebi from Bhopal (yes you heard it right).
---
2. Delhibhukkad
Followers: 12,200
A brainchild of a passionate foodie and a visual storyteller, Delhi Bhukkad is a go-to food guide for people in the capital.
The ardent foodie worships food in every shape and form, without discrimination.
One look at the page with pics of tempting aloo tikki from Agra, the Chocolate Decadence Love from Big Chill Khan Market and Mishti Doi Strawberry Jelly Palate Cleanser (you will want to sink your teeth into it right now) you'd want to board a flight and head to Delhi right now.
---
3. Kaapilicious
Followers: 6,857
An MBA graduate and former marketing consultant, Nithya Anantham, who goes by the handle Kaapilicious, is now a full-time chef at home.
This food enthusiast doesn't hesitate to experiment with different cuisines (North Indian, Andhra, Konkani, South India) in her kitchen.

Her lunch thalis with steamed rice, paruppu, lemon paruppu rasam, mor and salad, will make the food in your dabba look staid.

Oh! Those mini idlis with podi and generous drizzle of sesame oil and filter kaapi which she has for breakfast are already making us hungry!
---
4. Foodintheair
Followers: 3,60000
This Instagram account combines food with travel.
Carolyn, Meg, Patty and Charlotte are four sisters from Durham, North Carolina, USA who created foodintheair. The love for food runs in their family.
Close on their mother's heels -- she owns a gourmet food market -- the four girls took a liking for food photography.
Eggs Benedict on the deck, ice cream that's too pretty to eat, pesto tortellini at the Golden Gate Bridge, all their food looks like it's up in the air!
These travelling foodies love to pose with their favourite food next to iconic landmarks.
---
5. New_fork_city
Followers: 7,58000
New_fork_city was started by three students Natalie Landsberg, Gillian Presto and Emily Morse to combine their love for food and passion for photography into something substantial.

They enjoy making people eat and don't be surprised if you bump into the trio as they search NYC the best avacado toast, frozen yoghurt with Oreo spread, chocolate banana bread pudding or homemade creamy butternut squash spaghetti.
---
6. Always_wid_spices
Followers: 5,529
A homecook, wife, mother to-be and movie buff from Bangalore, Monali loves to cook delicious Indian meals and upload pics of it on her Instagram account always_wid_spices.
Following her will give you an insight into some of the most scrumptious food Monali cooks in her kitchen like aloo tamatar jhol, murgh aloo masala, gatte ki sabzi, etc.
---
7. We_are_food
Followers: 1,11000
Anna Jones is the author of A Modern Way to Eat and A Modern Way to Cook. She loves vegan treats and it's a treat to watch her churn out a vegan meal like saffron baked polenta and chocolate, almond and blackberry porridge, etc. She kickstarted the New Year with green soups and juices.

The foodie loves to play around with ingredients and will gladly give you a sneak peek of her organised kitchen through her Instagram page we_are_food.
---
8. Masterchefmom
Followers: 29,000
Uma Raghuraman is a 'masterchef mom' and a specialist when it comes to South Indian meals like Chettinadu Special Onion Masala Paniyaram, Nellikai Sadam and Kothu Parotta, just to name a few.
She uses fresh local ingredients that are easily available hence you can always replicate her meals.
Masterchefmom is your go-to Instagrammer for inspiration to cook simple, hearty home food and fantastic lunch options.

---
9. Shivesh17
Followers: 79,1000
Going by the delicious treats he bakes it's hard to say that Shivesh, 20, is a self-taught baker and food blogger. This young man from New Delhi started baking when he was in class 11.

The first thing he baked was a batch of vanilla cupcakes with his cousins. They got Betty Crocker's cake mix and still managed to burn a couple of cupcakes. Since then there has been no looking back for him.
He shares his recipes on www.bakewithshivesh.com (external link).
---
10. Theboywhobakes
Followers: 1,12000
Edd Kimber is a food writer and stylist. He was also the winner of The Great British Bake Off Season 1. You can watch him host of the podcast Stir The Pot.
Edd grew up in a house where baking was a regular occurrence. His first memory was standing on a stool in the kitchen helping his mum to make mince pies.
It's through theboywhobakes that he exhibits his passion for baking.
---
Follow this link to post the best of your food pics and we will publish them right here on Rediff.com!
Share your food pics along with a short description of the food and the place you clicked it.
Steps to upload pic on ZaraBol:
1. Click on 'Add Image' option on the left side of the #RediffFoodies page.
2. Upload an image from your computer/phone.
3. Write a small description for your image in the box above.
4. Hit post and see your image on ZaraBol.