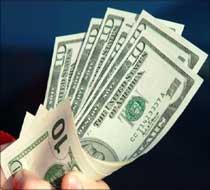 The United Progressive Alliance government is straining every nerve to ensure a discussion on foreign direct investment in retailing does not take place in the winter session of Parliament under a rule that entails voting.

Top government sources say they are reconciled to a discussion in Lok Sabha and Rajya Sabha because it is mandatory for a Foreign Exchange Management Act amendment to be tabled in Parliament.

But what the government is worried about is a loss of face and 'moral setback' if the issue is voted on.

"There are three people who stand between a loss of face for the government because of voting on the issue and a straightforward debate on it.

These are the presiding officers -- the speaker in Lok Sabha and the chairman in Rajya Sabha -- and Mayawati," said a top government source.

"We will discuss with them (Opposition parties) and try to persuade them," Minister of State for Parliamentary Affairs Rajeev Shukla said on the government's strategy, adding the speaker first needed to admit the motions and that would also involve a discussion with political parties.

The two presiding officers will take a view on the rule under which the motion will be permitted for discussion.

The government is fortified with the 21-MP Bahujan Samaj Party by its side in Lok Sabha.

Even with the entire Opposition massing on one side, the government would have upwards of 300 MPs in a House of 545.

It is not that the government is in any danger of destabilisation on this count.

But if a political message goes out that three quarters of Parliament are opposed to FDI in retail, it may appear as if the government is ramming down the nation's throat a decision Parliament does not approve.

The latest blow came from the Dravida Munnetra Kazhagam, whose chief M Karunanidhi told reporters in Chennai the party would make its stand clear once the motion was moved in Parliament.

Senior Communist Party of India leader D Raja, speaking to Business Standard, confirmed the Left parties were in the process of moving motions -- Rule 184 of Lok Sabha's Rules of Business and Rule 167 in the Rajya Sabha, which entail voting after discussion on a matter.

"As finance minister, Pranab Mukherjee had given a commitment in Parliament that all parties and even chief ministers would be consulted before any decision.

"What happened to that commitment?" he said.

"Democracy doesn't mean the ruling party in the government alone.

"It means the Opposition as well. So, how can they steamroll their decisions even if they are executive decisions?" said Raja.

All four Left parties -- Communist Party of India-Marxist, Communist Party of India, Revolutionary Socialist Party and Forward Bloc -- met recently and decided on moving the motions in Parliament.

"Morally, the government loses," said Raja.

Left parties are not willing to comment just yet whether it is "political convergence" with the Opposition Bharatiya Janata Party and the Trinamool Congress, but say, "This is an issue above politics."

The Trinamool Congress, while clearly not joining forces with its arch rival, the Left, has decided to go ahead and move its own separate motion in Parliament on FDI in retail, which will entail voting.

Former rail minister and senior TMC leader Mukul Roy told Business Standard, "The government has to face Parliament and see if the majority of members support its decision on FDI in retail."

"The BJP will strongly oppose the government decision on FDI in multi-brand retail in the winter session.

"This decision is not in the country's interest," said Ravi Shankar Prasad, chief spokesperson of the BJP.

Prasad said the party would discuss its strategy with other members of the National Democratic Alliance and also speak to like-minded parties opposed to FDI in multi-brand retail.

The NDA allies are likely to hold a meeting on November 21, a day before the winter session would commence.