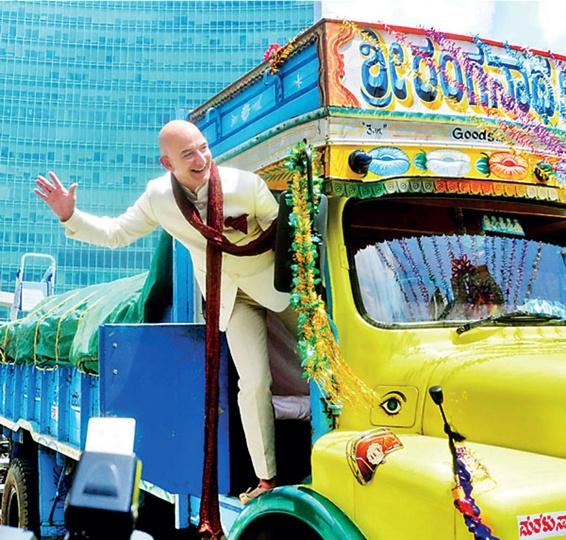 Industry watchers have pointed out that both Flipkart and Amazon.in need to rejig their seller base
India has figured prominently in Amazon founder and chief executive Jeff Bezos' annual address to shareholders.
This is also the first time since the government announced 100 per cent foreign direct investment in e-commerce marketplace last week that the US major has backed the business format followed in India.
"India is another example of how we globalise an offering like marketplace through customer obsession and a passion for invention," Bezos told the shareholders.
While Amazon is known primarily for its inventory-led model, it operates marketplace in India to adhere to policy guidelines.
India has never permitted foreign direct investment in e-commerce, prompting companies to open marketplace business as that meant offering a technology platform to facilitate coming together of sellers and buyers on their sites.
Last week, the Department of Policy & Promotion clarified that 100 per cent FDI is permitted in e-commerce marketplace but no foreign investment can be allowed in online inventory-led companies.
Industry watchers have pointed out that both Flipkart and Amazon.in need to rejig their seller base to comply with the new guidelines, which specify that no vendor can sell more than 25 per cent of the total on any marketplace site.
WS Retail is the biggest seller on Flipkart and Cloudtail is the most prominent vendor on Amazon.in, with sales of both exceeding the permitted level of 25 per cent.
On marketplace model, Bezos cited a scheme called Amazon Chai Cart, where the company "deployed three-wheeled mobile carts to navigate in a city's business districts, serve tea, water and lemon juice to small business owners, and teach them about selling online.
In a period of four months, the team travelled 15,280 km across 31 cities, served 37,200 cups of tea and engaged with around 10,000 sellers".
According to Bezos, through conversations with sellers, the company found out there was a lot of interest in selling online, but the sellers struggled with the belief that the process was time-consuming, tedious and complex.
"So, we invented Amazon Tatkal, which enables small businesses to get online in less than 60 minutes.
"Amazon Tatkal is a specially-designed studio-on-wheels offering a suite of launch services including registration, imaging and cataloguing services, as well as basic seller training mechanisms.
"Since its launch on February 17, we have reached sellers in 25 cities.''
Referring to India, he said the company was globalising "fulfilment by Amazon", adapting the service to local customer needs.
"In India, we launched a programme called Seller Flex to combine Amazon's logistics capabilities with sellers' selection at the local neighbourhood level."
Amazon, which announced an investment of $2 billion in July 2014 for the India market and is competing with Sachin Bansal-led Flipkart for marketshare, is extremely bullish on the country.
Top executives had earlier said the company had an 'open cheque book for India', its fastest growing market.
Image: Amazon founder and CEO Jeff Bezos poses as he stands on a supply truck during a photo opportunity at the premises of a shopping mall in Bangalore. Photograph: Reuters