Can you identify the three women in the photograph below?
In 1981, when N R Narayana Murthy led six other techies to float their dream venture called Infosys, they had no money and only their wives' support. And that support led to the founding and then the phenomenal growth of one of India's most loved companies.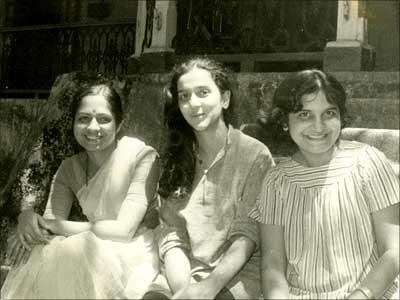 Murthy and his friends did not have money, but they had something better: dreams, courage and conviction to move ahead with Infosys, through struggles and the constant fear whether their start-up would rake in business and money.
Murthy was the man who took final decisions that proved to be right always. And Murthy was the first one to shift from his Pune base to Bangalore when Infosys got it first client -- Data Basics Corporation from the US.
Two other founders -- Nandan Nilekani and S D Shibulal -- were the next to move to Bangalore.
As they struggled it out with the first Infosys days in Bangalore, Murthy, Nilekani and Shibulal took a firm decision: that their wives would not be involved in the running of the company.
Their wives -- Sudha Murthy, Rohini Nilekani and Kumari Shibulal -- fully supported the husbands, and baby-sat at home.
There was no luxury, only struggle, day in and day out. No car or phone. Murthy later recalled that it was not the luxuries of life, but the passion to create something new and innovative that made them move on.
But despite the struggles, the Murthys, Nilekanis and Shibulals took time out to go out to have fun on picnics in the picturesque Bangalore those days.
Today, Sudha, Rohini and Kumari are also among the richest women in India, considering their shareholding in Infosys.
What do the women behind the Infosys dreamers do these days with so much money?
Sudha Murthy:
"I take pleasure in giving. I feel that I have a reasonably good amount of money for all of which I don't have much use. So I thought I should share it with my poorer countrymen."
Sudha heads Infosys Foundation, the charity and social services wing of Infosys.
In her right, she is also reputed software engineer. In the early struggling days of Infosys, Sudha would leave her children -- daughter Akshata and son Rohan -- in the company of Nilekani's wife Rohini and do part-time job for Infosys, writing software codes.
An ME Electrical from the Indian Institute of Science, Bangalore, she started her career as a Development Engineer with TELCO. Later, she taught Computer Science to B.Sc and MCA students in Bangalore University.
A prolific writer in both Kannada and English, she has been a columnist for several English and Kannada dailies and also has 19 books to her credit -- among them novels, travelogues, technical books and collections of real-life experiences.
She is probably one of the few Kannada writers to have her work translated into so many Indian languages.
Rohini Nilekani:
Her husband Nandan Nilekani runs Infosys. A fiercely private person, Rohini -- who worked as a journalist for several years -- is actively involved with several non-profit organisations in Bangalore.
She has also set up an endowment fund called Arghyam, (which means 'offering' in Sanskrit) that supports endeavours in health, education, and especially in equity in access to water for all.
She is also:
Chairperson for Akshara Foundation, the goal of which is 'Every child in Bangalore in school and learning well.'
Co-founder of Pratham Books, a non-profit publishing enterprise to produce high quality, low cost books for children in several Indian languages.
On the board of directors of Pratham India Education Initiative.
On the board of Sanghamithra Rural Financial Services and has funded its first microcredit program for the urban poor.
Last, not the least, Rohini is a prolific reader and writer, a quality she inherited while working as journalist with Sunday and India Today.
Few years back, she published her novel, a medical thriller called Stillborn, which was brought out by Penguin Books.
Kumari Shibulal:
Her husband S D Shibulal is the co-founder of Infosys, and currently director and head of Worldwide Customer Delivery, and continues to play a pivotal role in Infosys's astounding growth.
Shibulal and his wife Kumari live in a South Shore suburb of Boston, MA, with their two children.
But often, Kumari is in India, especially in Bangalore as she is the chairperson of Akshaya, a charitable trust they founded to help needy children in India. Akshaya offers scholarships, and has sponsored over 1,000 children for free heart surgery in the year 2002.
"What we do is nothing but a drop in the ocean and if we do not do it the ocean is only a drop less," says Kumari Shibulal of her Akshaya Trust.
Kumari is also a sports lover, and especially of India's golden girl P T Usha from her home state of Kerala.
So when P T Usha was without money to set up the Usha School of Athletics in north Kerala, Kumari Shibulal was one of the first to give a helping hand.
Six students of the first in the Usha School have been fully sponsored by Akshaya Trust.
In one of her recent visits to the school, Kumari Shibulal wrote: "I will be more than honoured if one among the six students sponsored by me stands on the podium at  international meets making our Tricolour fly high."
Above: (From left to right) Kumari Shibulal, Rohini Nilekani and Sudha Murthy. Photograph, courtesy Infosys Technologies.