Sreenivasan, the maverick film personality, is one of the most talented scriptwriters in Malayalam cinema. His dialogues, laced as they are with subtle humour, cynicism and references to global events, are a delight to listen to. He laughs at himself in all the films he acts in. Perhaps unsurprisingly, the Sreenivasan I met was a man with a great sense of humour.
His new film Kadha Parayumbol where he plays the role of a barber, and Mammootty that of a superstar, is one of the biggest hits in Kerala at the moment. The film has become a talking point also because Rajnikanth has decided to act in its Tamil remake.
Also read: A barber and a superstar
In the first part of this interview, Sreenivasan talks about how Kadha Parayumbol was conceived, and in the second, he discusses how the film bowled Rajnikanth over.
Over to Sreenivasan:
Were you inspired by Rajni's story in writing Kadha Parayumbol? We see an uncanny resemblance to his story.
Not at all. Usually, I book a room in a hotel or a guest house and start thinking about what to write! Sometimes, I even rent a house with only a cook as my companion. In the case of this story, I did nothing of that sort. The spark, or to be more specific, a scene, came by accidentally.
What was the scene?
The scene where a successful man remembers his past and his poor friend while at a school function.
That means you thought of the last scene first...
Yes. It rarely happens this way. Somehow the scene rattled me. At that time, it was not a film star who remembered his poor friend; just a successful man.
Looking back, why did you think of such a scene?
Perhaps I thought of the goodness innate in every human being. If a person can remember what somebody has done for him, that's the best value he has. Generally people forget the past and the path they took.
Let me tell you of something that happened to me when I was dreaming of joining the film institute in Chennai. My father and I were at loggerheads on many issues. He didn't agree with what I believed in. In fact, we were not even on talking terms. My college mate Suresh Chandran, who was at the time manning his father's utensil store, helped me through this period by lending me Rs.75 to go to Chennai and start the course.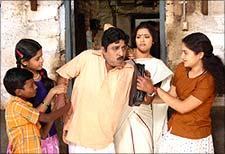 At the Adyar Film institute?
No, at the Film Chamber Institute. That was where all of us, including Rajnikanth himself, studied. He was a year senior to me. Somehow, everybody wrote that we studied at the Adyar Film Institute -- that is wrong. The Film Chamber Institute functioned only for six years. I would be grateful if you could pass this on to people at least now! (laughs)
Did you repay your friend?
No. I have not repaid him the money because I do not know what its worth is. We continued to meet through all of these years -- in fact, I met him just yesterday.
So, the scene that came to my mind was an emotional denouement of what had happened to me years ago. Sometimes, certain memories come back to you without any rhyme or reason; just like the image of that scene did.
Unlike in the past, I noted down everything that came to mind in three pages with the only red ink pen I had. I described then how I wanted to present that scene to the viewer; that is, the craft.
When did you decide to make him a superstar?
In our milieu, only a film star is likely to achieve that kind of success. There is likely to be a part of his life that not many know about. If he is a person like K R Narayanan, people admire him but they know every aspect of his life. There is no secrecy about his life. On the other hand, a film star may keep certain aspects of his life very secretive.
The poor friend is a barber in the film. How did you think of such a profession? You don't see many barbers as heroes in films.
I could have made him a coolie, a fisherman, or a beedi worker. But none of them have to spend a lot of money to purchase the equipment needed for his profession. So, I thought of a poor man the tools of whose trade are expensive. That is how the image of a barber came to my mind. He needs a lot of money to buy his equipment -- these include sophisticated scissors and even a revolving chair!
Many incidents in this film would not have taken place if he did not have to spend lots of money to upgrade his equipment. His revolving chair alone may cost twenty or twenty-five thousand rupees. There are not many people who would be jobless if they did not have money to buy their professional tools and equipments.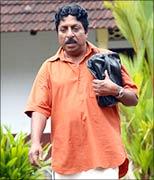 Also, a barber is an integral part of society! A barber shop in a village is bit like a public reading room. You get to read all the newspapers and magazines there.
The fact that the barber has not been portrayed as the protagonist also made me look at him from that point of view.
Was it one of the most difficult scripts you wrote?
Yes, definitely. And that's because I wanted to bring viewers to the scene I'd conceived in an interesting manner.
Ashok Raj does not appear on screen up until the last thirty minutes of the movie, but the villagers talk about him all the time. So, I had to sustain the viewers' interest until he appeared. So, it was a tough tightrope to walk. With the passage of each scene, I intended that Ashok Raj's mystique should grow. So, I really struggled to write this script. I was hopeful about the last scene, but I had to retain the viewers' interest up unto the last scene!
Did you expect the story to be such a big hit?
To be honest, no. Before I made the film, I had narrated the story to at least ten people who knew a thing or two about moviemaking and scripts; all of whom appreciated it.  
When I told this to Mammootty, his eyes welled up. I even told the story to my son, Vineeth; he too found it very touching.
Priyadarshan was another one of the few people I narrated the story to at the very outset. I expected him to make some suggestions to improve the script. His response to the story was silence -- a silence that went on for several minutes. Then he started talking about something completely different. Then, I understood that he did not particularly enjoy the story. I was a bit worried by his reaction. I didn't know why he responded differently from the others.
Once we started shooting, Priyan visited me. Then, I asked him to peruse what I had written. He then said, 'This is amazing'. Three days later, he gave me a ring and said, 'Even now, the story and that scene haunts me. I have a request. I would like to have the rights to remake this movie in Hindi.'
Has the public response revealed something to you?
Yes, that people still hold good values dear. They have not lost their humanity. Yesterday somebody was telling me about catharsis. Apparently, Aristotle had stated that creative work has the ability to cleanse the human mind. And that if it can't, it is not creative.
Another person told me that he was angry with society because he believed that he did not get what he felt he deserved. But he calmed down after watching the film.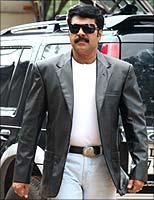 People in the film industry such as Priyan, Prakashraj, and Suresh Krishna were present at the first preview in Chennai. All of them said they were filled with tears at the movie's denouement. Priyan said, 'If this film does not become a super hit, I shall stop directing films altogether'. So, I was not as worried as I am wont to be prior to the release of one of my movies.
How difficult was it for you to prevent several poignant scenes from descending into melodrama?
The difference between one writer and the other, or one director and the other, is the way he deals with a scene.
Take for example, the last scene of the movie. Mammootty could have hugged the barber, and both of them could have cried. But I was sure that I did not want such a cliched scene in my film. I deliberately avoided the contrived scene. Instead, I made Mammootty hold Balan's children close to him saying only two words, 'Balan's children'.
Here I must say I bow in front of a talent like Mammootty. What a performance it was!
Mammootty was simply outstanding in the scene where he makes that long speech. That was one scene which could have become boring if not for his performance. Did you expect the audience to react so emotionally to that scene and his performance?
While shooting that scene, at many places, Mammootty could not hold his tears back long enough to continue his soliloquy. He would pause in between to get a grip on himself, and then continue his speech. He did not use any glycerine for that scene. Because he could not say his lines, there were long pauses in between but the camera went on rolling. When he recovered, he continued the scene. In fact, we cut all those portions because in reality, what we saw was very dramatic and emotional.
In my career, I have not had such an experience.
Till now, we have only seen a cynic in Sreenivasan the scriptwriter but in Kadha Parayumbol, you look at human relationships very emotionally. How did this change come about? Is it because you are growing old?
(Laughs) I cannot think of this story differently. This story made me think like this. We start a story, we create characters but after a certain point, it is the characters that take you; we can only move as they want. That was what happened. I can explain only this much.
It is the people of Kerala and their expectations that have made me what I am today. They have shown the direction I should take. Perhaps I am influenced by the changes that have taken place in the society.
In the beginning itself, had you decided on doing barber Balan's role?
Yes, we had taken that decision.
And, you wanted only Mammootty to play the super star?
Yes. We couldn't even think of anybody else. I don't think anybody else has the kind of charisma Mammootty has. According to me, even in India, you don't have any other male actor who has the kind of personality Mammootty has. I am not saying this because he acted in my film.
In all your films, you have a very beautiful wife, and then we hear you talk about your ordinary looks.
(Laughs) The market rules! Market wants only beautiful women! (Laughs) And there are very few actresses who are not good looking! I need actresses who have experience and all the experienced actresses are good looking!
Photograph of Sreenivasan: Sreeram Selvaraj