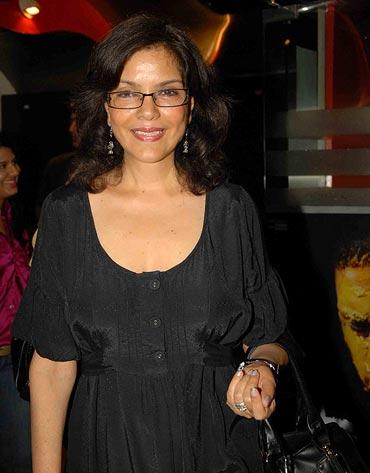 Actress Zeenat Aman, who recently let it slip in an interview that she is in love and marriage may be on the cards, is suddenly in the news with fans eager to know the details of her impending wedding.


However, the yesteryear sex symbol admits that she's in love but rules out the possibility of marriage just yet
She says, "Yes, I am in love. There is someone in my life, I won't deny it. But I am not getting married! Not right now at least. Yes, he has proposed to me. But I haven't decided to take the plunge as yet."
The actresss was married to actor Mazhar Khan until his death in 1998 and has two adult sons -- Azaan and Zahaan -- who she says, are the prime focus of her life.

"No doubt my boys are my priority. Now there's a man in my life who's serious about our relationship. He wants to get married, so I am thinking about it."
The actress, who blazed a trail with her unabashed sensuality in films like Satyam Shivam Sundaram and Qurbani, says her sons are happy for her.

"At the end of the day they want to see their mother happy. Both my boys have just finished their education and are undecided about what they want to do with their lives. They have many options. I will support them in whatever they want to do as long as they're happy."
Zeenat is also looking at returning to acting. "I have a couple of offers. Let's see how it all pans out."
She may have been out of the limelight for a while now but Zeenat is proud to have given her 100 per cent to whatever she's done in life.

"I gave my all to my career and later to my marriage and motherhood. If I get married again I'll be completely focussed on it.
"If at all there's a marriage, it would be very quiet. At my age I can't have a big fat wedding, though I feel you are as old or as young as you feel."