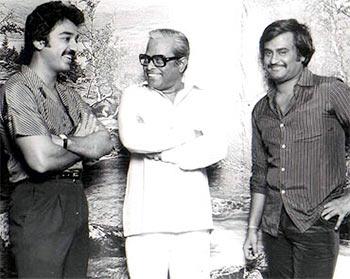 'I am an actor because he made me one.'
Kamal Haasan on his mentor, director K Balachander, who is seriously ill in hospital.
K Balachander, who introduced superstars like Rajinikanth and Kamal Haasan to the movies, is critically ill in a Chennai hospital.
Kamal Haasan, who is currently in Los Angeles working on his film Uttama Villain, has been checking on his mentor's health.
"Balachandersaab is my guru, mentor and guide," says Kamal Haasan. "I am an actor because he made me one. He is stable, but still critical."
Kamal Haasan started his career as a clapper boy on Balachander's sets and grew into a formidable actor under the director's attention.
"Our bond goes far beyond the usual director-actor relationship. We are guru and shishya. A lot of what I have learnt about filmmaking comes from Balachandersaab. He is a towering institution for all of us."
In 1973, this prolific director offered Kamal Haasan a walk-on part in his Tamil film, Arangentram and its Hindi version, Aaina. They later collaborated on several Tamil and Telugu hits like Apoorva Ragangal, Maro Charithra and its Hindi version, Ek Duuje Ke Liye, which marked Kamal Haasan's debut in Hindi cinema.
"If you look carefully in Aaina, you will see me as the thin clapper boy in the song Jaane Kya Ho Jaaye Jab Dil Se Dil Takraaye," Kamal Haasan says with a laugh.
Kamal Haasan played himself in Balachander's Paarthale Paravasam, starring Madhavan. Recalls the actor, "When Balachandersaab visited me on the sets of Abhay in Chennai, everyone in my crew was agog. Why had the master come to the pupil? The minute he asked me to make a guest appearance in his hundredth film, I said yes. How could I not be part of such a historic event in the life of a person who means so much to me?"
"It was a very comic sequence where in a public gathering my toupee flies off," he adds.
The actor becomes sentimental about his mentor, with whom he has done 35 movies. "The best roles and opportunities in my career came from Balachandersaab," he says.
Image: K Balachander, centre, with his discoveries, Kamal Haasan, left and Rajinikanth.