Rediff's film critic Sukanya Verma lists her worst Hindi movies of 2014.
As if one didn't feel miserable enough watching these monstrosities the first time, year-end specials ensure torture encore.
Like I wrote in my Best Films compilation, last year was hardly a triumph.
So it wasn't a task to list 10 films I disliked the most in 2014 regardless of the money they made or otherwise.
If you don't see something notably rotten on here, guess I was fortunate enough to miss it. Let's roll out then, my pick of the worst films, in no particular order:
Bang Bang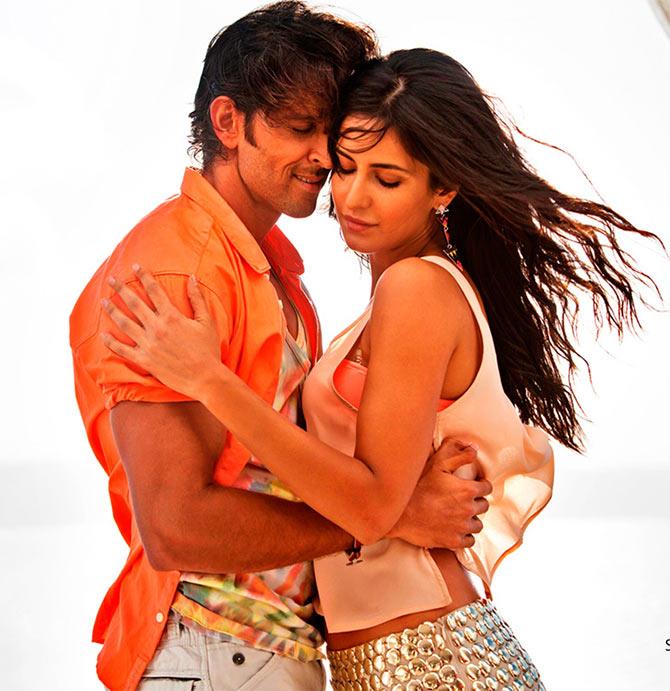 Image: Hrithik Roshan and Katrina Kaif in Bang Bang
Get over this: Hrithik Roshan steals a diamond (Kohinoor, no less) like he was snitching a samosa from a snack counter.
And Katrina Kaif (no prosthetics involved) wants us to believe she's lonely, boyfriend-less bechari desperately looking for romance through online dating services.
Yeah right.
Humshakals
Image: Ram Kapoor, Saif Ali Khan and Riteish Deshmukh in Humshakals
It will take a while before that disturbing image of Saif Ali Khan, Ritesh Deshmukh and Ram Kapoor in drag leaves my memory. Yet it's nothing compared to the wreck Sajid Khan's Humshakals throws up in the name of comedy.
There's silly. There's stupid. And there's sick.
One has to be on a special kind of medication to approve of something as deplorable as this.
Kill Dil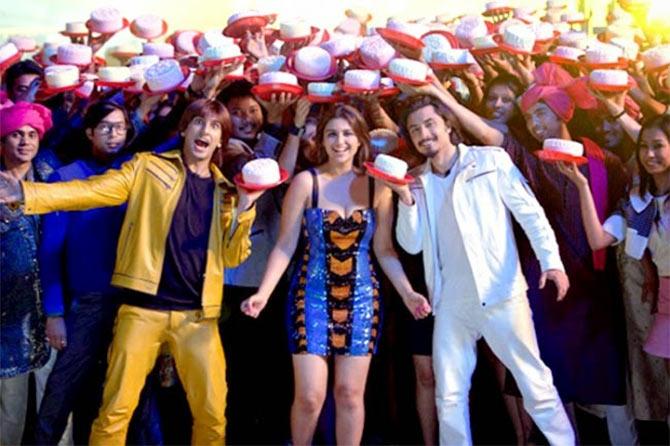 Image: Ranveer Singh, Parineeti Chopra and Ali Zafar in Kill Dil
Shaad Ali returns to direction after a really long time to offer a boremance between Ranveer Singh and Ali Zafar, waste Govinda in a two-bit role and embarrass Parineeti Chopra in one of the worst-dressed 122 minutes of her career.
The film is about a hero, who wants to give up his criminal ways and win over the dowdy heroine's heart. So he gets a fake degree and realises his true calling in an insurance company and wins over the dowdy heroine's heart.
Entertainment
Image: Tamannah and Akshay Kumar in Entertianment
Here's a sample of its, yikes, humour:
Mere paas locket hai, letter hai, baap ki tasveer hai, DNA ki bottle hai. D-N-A: Daddy's Naajayaz Aulaad.
Isse kehte hai mast chick -- one-piece item in two-piece bikini.
Hats off to that incredible golden retriever for not biting his loony co-stars.
Super Nani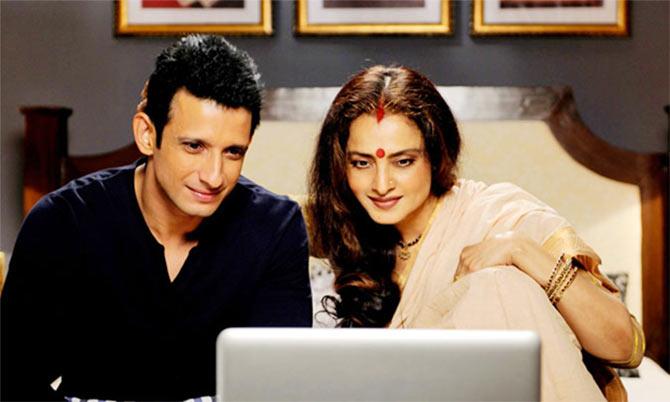 Image: Sharman Joshi and Rekha in Super Nani
'Yeh paap hai,' protests Rekha on the very mention of live-in relationships.
All the red lipstick in the world cannot distract us or excuse her for saying one of the most regressive lines in one of the most moronic films of her career.
Kaanchi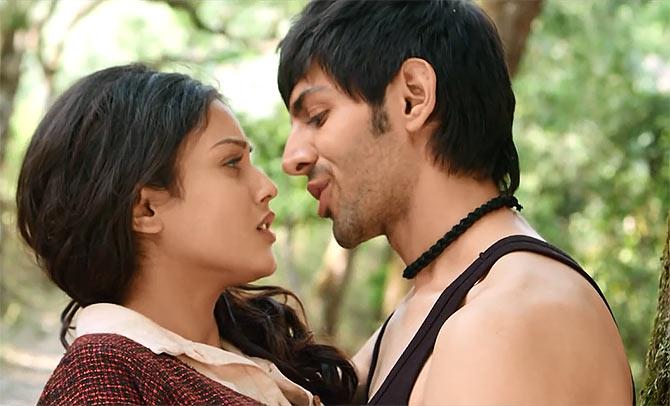 Image: Mishti and Kartik Tiwari in Kaanchi
Subhash Ghai's antiquated vendetta saga about a mountain girl who swims all the way from Uttaranchal to Mumbai to realise her seemingly Aakhri Raasta-inspired dreams is so tacky it hurts.
Not only does Kaanchi dethrone Yuvvraaj to set a new benchmark in lameness but accomplishes the impossible -- a Golden Kela-worthy performance from Rishi Kapoor.
Gunday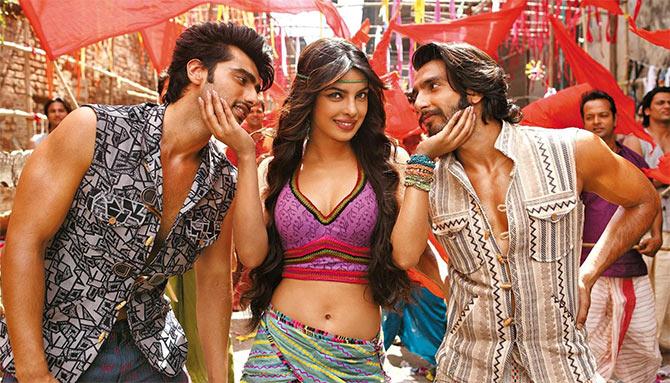 Image: Arjun Kapoor, Priyanka Chopra and Ranveer Singh in Gunday
Arjun Kapoor and Ranveer Singh's sparkling chemistry in that uproarious episode of Koffee With Karan is nowhere to be found in Ali Abbas Zafar's hopeless mess that is Gunday.
What starts out with promise soon disintegrates into a pile of bombastic bunk that's exhausting and makes its capable cast look like a bunch of hysterical blockheads in a 70s-themed fancy dress competition.
Jai Ho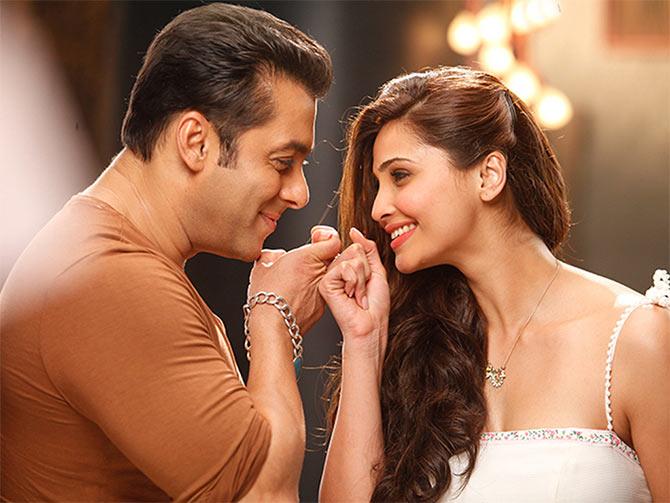 Image: Salman Khan and Daisy Shah in Jai Ho
I didn't care for either Salman Khan release this year.
While Nawazuddin's old school villainy salvaged Kick from being an outright goner, Sohail Khan's Jai Ho cannot camouflage its masala-over-meaning intentions even once.
Crammed with a quite a few Bigg Boss contestants and Tabu as the over-the-top sister, Jai Ho brazenly relies on Bhai's burly shoulders and roaring proficiency to do the trick.
It misfires. And how.
Hate Story 2
Image: Surveen Chawla and Jay Bhanushali in Hate Story 2
Surveen Chawla's angry young woman puts on her best leather to avenge boyfriend's execution in Hate Story 2. Only I've seen Jerry display more emotion to get back at Tom than Chawla's 'badla'.
It's like I summed it up in my review -- gutless, brainless, soulless and sexless.
Desi Kattey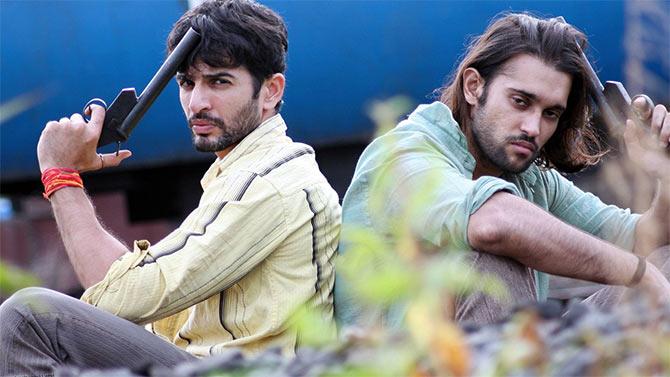 Image: Jay Bhanushali and Akhil Kapur in Desi Kattey
Desi Kattey is one of the few times I truly loathed my line of work.
Teeming with deafening sound, lousy performances and senseless logic, this one's so bad it's not funny.