'As of now, it seems like they want to tread the Vajpayee line, but the central government has to create trust.'
'It has to be vibrant and unambiguous.'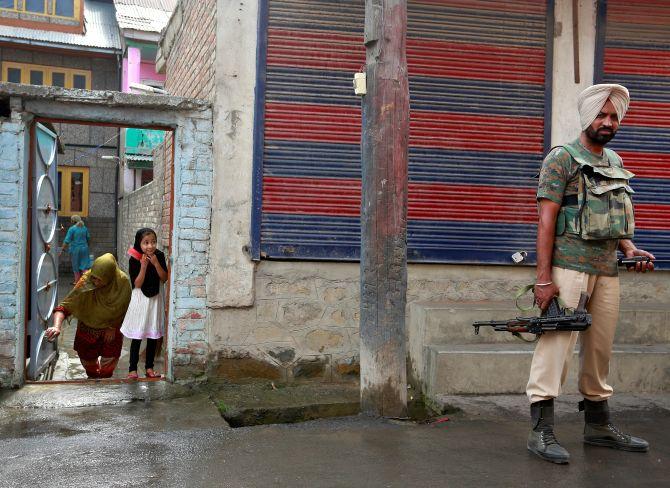 IMAGE: A child peers from her home as a member of the security forces patrols a street in Srinagar. Photograph: Cathal McNaughton/Reuters
In the last week of October, senior Bharatiya Janata Party leader and former Union minister Yashwant Sinha led a delegation of five members -- the others being Wajahat Habibullah, former chairman, National Commission for Minorities; Air Vice Marshal Kapil Kak (retired); senior journalist Bharat Bhushan; Sushobha Barve of the Centre for Dialogue and Reconciliation -- to Kashmir in an attempt to provide some relief to the troubled valley.
It was a significant development when during the group's three-day stay in Srinagar, Hurriyat leaders, including Syed Ali Shah Geelani and Mirwaiz Umar Farooq, as also trade and business representatives (who had refused to meet Home Minister Rajnath Singh) met Sinha's group.
On November 8, the group released a report in Delhi in which, among a string of administrative and reformative measures, it recommended initiating talks with the separatists, setting up of a judicial commission to probe excessive use of force, establishing schools for youth blinded by pellets, and also ban the use of pellet guns.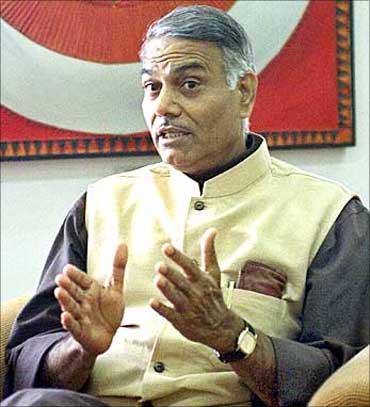 Pervez Majeed spoke to Yashwant Sinha, left, who hopes his group will break the stalemate in the Kashmir Valley.
You have made several recommendations in your report. How hopeful are you that these suggestions will be accepted by the government?
This report is a follow-up to our visit to Kashmir. We have sent the report to the prime minister.
As concerned citizens of the country, we took the initiative of visiting Kashmir, meeting the people concerned and come up with practical solutions.
We hope the governments in Delhi and Jammu-Kashmir take it up seriously.
The report is our viewpoint and suggestions to end the impasse in Kashmir.
Moreover, we are continuously in touch with the people there (in Kashmir) and our dialogue continues.
Does that mean you are in touch with Hurriyat leaders as well?
I can't share the details, but all I can say is that we are continuously in communication with several people.
Here I want to tell you that we are also in continuous contact with the state government. And from our side whatever we can do, we are trying to do that.
At the moment, our main objective is that schools should open.
Children should be released from jails so that they can go to schools.
We had hoped that the Hurriyat leaders' meeting with stakeholders the other day would help in giving some relief regarding opening of schools, but unfortunately nothing much was clearly said about that.
We hope in the coming days something positive regarding schools and education will happen.
Did you meet anybody from the central government after your return from Kashmir?
As of now, I would not like to talk about that. All I can say is that we are in contact with all; particularly with the state government because it has a huge responsibility and role to play.
Does this 'in contact with all' mean that you are in touch with the representatives of the central government as well?
Yes, other group members are.
Do you favour a dialogue with local militants as well?
If they come for talks, there will be talks. But as long as they have guns hanging on their shoulders, how can there be talks?
Guns are not going to help anybody, rather it is damaging. Those who believe in guns should change their thought.
There have been civilian deaths and massive damage to property. Who is responsible for all this? Why did Kashmir erupt massively again?
I think this is not the time to blame this or that person.
If we talk like this, we will end up offending people. So it is impertinent to talk about such things at the moment.
We should focus on providing immediate relief, which includes opening of schools.
Many hold the perception that the central and state governments' response to the uprising was disproportionate. What is your view on this?
I won't even talk on this issue. At this moment, we need to make efforts to save lives and property and improve the situation.
We appeal to all the stakeholders that we should first bring the situation to normal.
Above all, schools should open, it is our responsibility.
We feel that those who are at the helm of the current agitation should take up the responsibility that they should not hinder the efforts of reopening of schools.
We said it there (in Srinagar) and I want to emphasise through this interview that it is the responsibility of us all to save the future of the students.
Then there are measures to be taken, which we have explicitly mentioned in our report.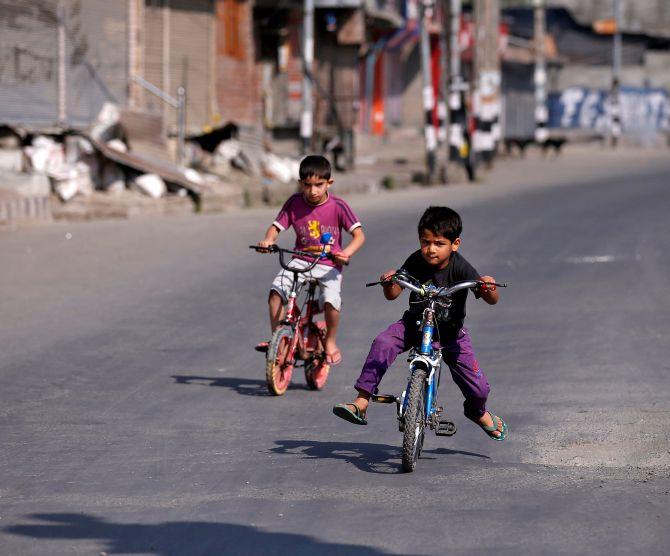 IMAGE: Kashmiri boys on a deserted road during a curfew in downtown Srinagar. Photograph: Danish Ismail/Reuters
Separatists and other non-political leaders of Kashmir refused to meet the all-party delegation led by the home minister, but agreed to meet your group.
Do you think this has now put you in a position of responsibility and you have an obligation towards them?
Yes, exactly. We do have a responsibility now. And we are fully prepared to fulfil this responsibility.
Do you think by agreeing to talk to you, the separatist leaders have tossed the ball in your court?
We don't have any court... we had gone to talk to them; rather, I would say we had gone to listen to them.
So we listened to them with an open mind. That's why we are advocating that the government should initiate a dialogue and there should be a dialogue with all.
Then there are some other initiatives to be taken and our report has detailed them. That is our stand.
In your report you have mentioned 'jettisoning of the Vajpayee line' on Kashmir as one of the reasons responsible for the 'anger in Kashmir.' But the prime minister and home minister have been referring to Vajpayee's Kashmir policy quite often!
As of now, it seems like they want to tread the Vajpayee line, but the central government has to create trust in that.
I mean it has to be vibrant and unambiguous. You need to take bold steps if you want to follow the Vajpayee line!
Since your Kashmir visit, how many times have the members of your group met?
We met several times and we continue to meet. As I said earlier, we are serious about what we are doing.
Will you visit Kashmir again?
Of course, when there is a need, we will visit again.
As a senior national leader who has held important positions in the central government, what should be the status of Jammu and Kashmir vis-a-vis India?
When we talk about the status quo aspect, then we have to talk to all stakeholders... because every stakeholder has a different view on the 'quo' status. So I can't give you an answer in a single sentence.
But, yes, our report has recommended certain things which can bring the people of Kashmir closer to the country.