'If you think of European girls as "prostitutes" because pre-marital sex is acceptable there, then you are indulging in xenophobia and failing to understand European societies.'
'If some Europeans do not allow Muslims to assimilate into European national cultures, some Muslims also refuse to try and adopt and assimilate.'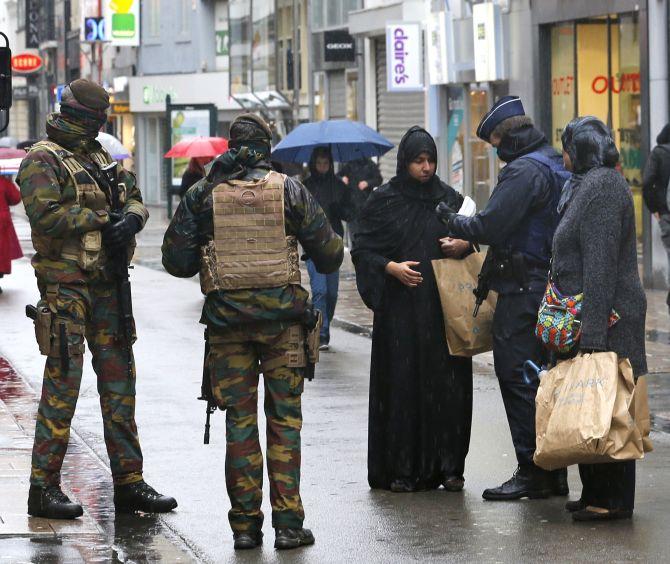 IMAGE: Belgian security personnel check the documents of a Muslim woman in central Brussels, last November, soon after the Paris attacks. Photograph: Youssef Boudlal/ Reuters
Are Muslims the new Jews of Europe?
Will Muslim Syrian refugees prove a threat to Europe in the near future?
Will we see more incidents like the secual assault and rape of European women by Arab immigrants like we saw in Cologne, Germany?
Will migrants from the troubled Middle-East be responsible for more acts of terror in Europe like the attacks in Brussels on March 22?
If these questions haunt you, you must read Tabish Khair's latest book, The New Xenophobia.
In a two-part interview with Syed Firdaus Ashraf/Rediff.com, Khair explains the new xenophobia haunting the world.
What do you mean by the 'new' xenophobia and how does it differ from the 'old' xenophobia?
As I see xenophobia as having to do with power, it follows that the forms of xenophobia will change as the nature of power changes.
Until recently, power was located in bodily and material forms of wealth and production -- farming, craft, trade by moving goods from market to market, industrial production. Even capitalism had a largely material definition, for instance as trade and industry, until recently.
During these times, xenophobia -- what I term old xenophobia -- impacted on strangers bodily and defined them bodily. Racism is an obvious example.
Since the 1980s onwards, in the current phase of high capitalism however, for the first time in human history, financial transactions have totally dwarfed industrial and related material production. Today, much of capital exists only as numbers -- it is not the same as money in the past.
As capital -- the source of power today -- has become even more abstract than money, it follows that the new xenophobia has more abstract expressions too. As such, for example, people do not oppress others on the basis of colour or race, but by using abstract economic arguments.
Of course, the old xenophobia is by no means over: My book also shows how the new xenophobia overlaps with the old xenophobia and how it sometimes uses opposition to old xenophobia as a smokescreen.
How were strangers treated in earlier times when they reached a new destination and new civilizations? Were humans always hostile to strangers? Did they always have a xenophobic attitude towards people from other races?
Human beings have reacted in different ways to strangers.
Even in basically anti-Semitic Europe, Jews were welcomed at times. Internally, homosexuals have also been accepted or persecuted in different phases of history and in different societies.
All religions contain lines and stories about welcoming the stranger, for instance. Moreover, a people familiar to another people can be turned into 'dangerous strangers' because of political developments.
For instance, Jews were far more free in medieval Arab cultures and often contributed to them at the highest levels. Some of the great Arab philosophers and scientists from the Middle Ages were Jews.
Or look at what has happened to Kashmiri Pandits in the Valley. Actually, the strangers of xenophobia do not just 'come' from somewhere; my book shows that they are created in a particular situation.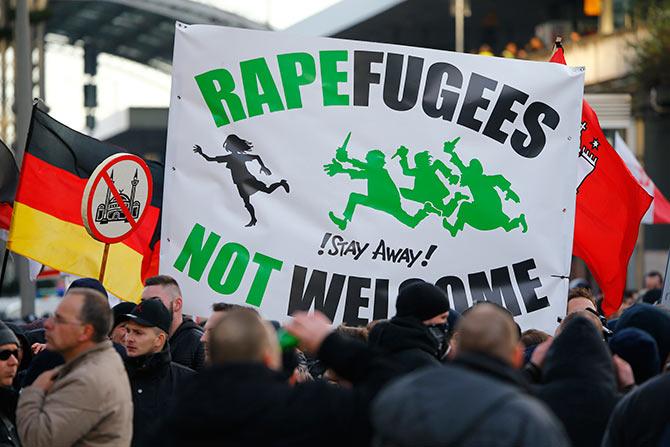 IMAGE: Supporters of the anti-immigration right-wing movement PEGIDA (Patriotic Europeans Against the Islamisation of the West) demonstrate against mass assaults on women on New Year's Eve in Cologne, January 9, 2016. Photograph: Wolfgang Rattay/Reuters
In spite of the all modern technology we possess, including access to the Internet, why have we have been not able to understand different cultures and develop friendly relations among different cultures?
Technology (including the Internet) is never sufficient. For about a century now, we have the technology to eradicate hunger all over the world, and it has not happened.
The Internet is just a tool: You can use it in different ways. You can use it to connect to other people and talk to them in a civilised manner. You can also use it to download hate-filled opinions and circulate them.
You can learn to build bridges or bombs.
Unfortunately, in an increasingly bureaucratic and technocratic world, the humanities are being largely neglected -- so while we are developing better and better tools, we are neglecting the study of human beings and societies, which also means that we are neglecting to study how tools are and can be used by human beings in social and historical contexts.
You yourself were a stranger when you arrived in Denmark. Can you tell us the do's and don's a stranger needs to keep in mind when he arrives in a new country?
I believe that if a stranger chooses to move to another country and is not too old, the first thing he should do is try to learn its language and a bit about its culture.
At the same time the host country has to learn to accept the stranger as someone who will relate to the native language and culture in a different manner.
Note, I say: If a stranger chooses to move somewhere; the situation of refugees fleeing a war might be different.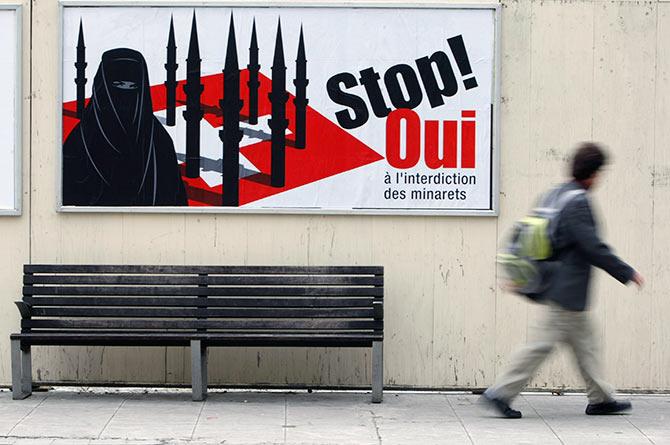 Image: A poster protesting the construction of new minarets in Switzerland, November 9, 2009. Photograph: Denis Balibouse/Reuters
If you talk about Europe, do you think it is suffering from the new xenophobia as many Europeans don't want Muslims to assimilate in their culture? I am saying this because Switzerland said 'No' to a mosque minaret and Denmark, till 2009, had no Muslim graveyard.
Denmark did allow a Muslim graveyard, but it took decades of legal effort.
Europeans react to Muslims in different ways. Some of it is new xenophobia, for instance, when abstract laws are used to debar them or when an abstract economic logic is employed. They are not debarred because of colour or race, but because of 'economic' or 'civil' reasons.
Some of it is still old xenophobia, given a new slant.
But it has also to be noted that some Muslims show aspects of old xenophobia, by denigrating the beliefs and cultural practices of Europeans.
If you think of European girls as 'prostitutes' because pre-marital sex is acceptable there, then you are indulging in xenophobia and failing to understand European societies.
So, if some Europeans do not allow Muslims to assimilate into European national cultures, some Muslims also refuse to try and adopt and assimilate.
I cannot put the blame only on the European right, alas. Muslims can be just as xenophobic as any other people.
When we read about the Cologne assault on women on New Year's Eve or rapes in Sweden by migrants and by people of Arab descent, don't you think there will automatically be a xenophobic attitude that will develop in the locals against immigrants?
Of course, but that is the point about xenophobia too. Because one immigrant is a criminal, it does not mean that all immigrants are criminals.
It is right to act against a criminal even if he is an immigrant, but it is wrong to use individual cases to denigrate an entire group.
That is what xenophobes do -- and they do it mostly to empower themselves by marginalising a group and by becoming 'representative' of their own national opinion.
It is finally a power tussle -- and the stranger is made a scapegoat.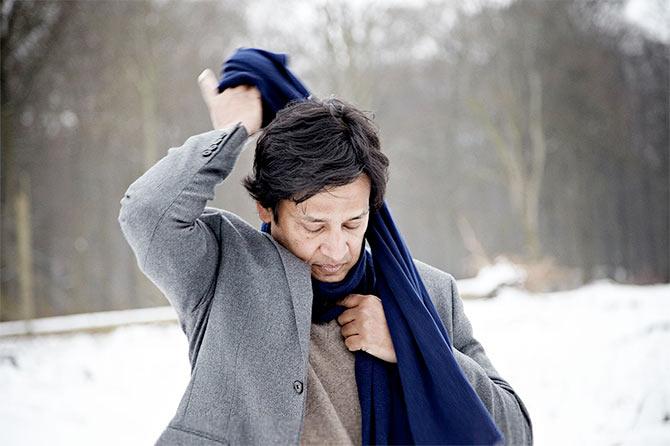 IMAGE: Tabish Khair believes xenophobes mostly empower themselves by marginalising a group and by becoming 'representative' of their own national opinion. Photograph: Kind courtesy Tabish Khair
How do you see rise of Donald Trump in American politics? Will you say that there is a xenophobic attitude in Republicans towards the Muslim community?
If Trump gets elected, do you think the equation of America with the Muslim world will change for the worse?
Trump is a political maverick and he is going so far because the Republicans are bankrupt as a political party today. They seem to have no positive agenda, only reactions. So I do not really know what Trump will do if he gets elected: a maverick is unpredictable.
Will America's equation with the Muslim world change if Trump becomes president? Who knows? I doubt it.
It depends on what you mean by the equation: Dor instance, Saudi Arabia, along with Israel, has been one of America's best 'allies' for decades now, despite whatever it might do or whoever might be in power in USA.
Obviously, much more than individuals have a role to play in shifts in global power politics.
You give the example of Denmark, of how the burglary rate dropped from 2009 to 2010, yet Danes were arming themselves. Why? Why this mass paranoia when only 0.015 per cent homes were robbed?
What is the psychology behind the fact that human beings behave this way?
Denmark is a working welfare State, a small nation of five million people and has an ageing population.
One of the consequences of this combination is an extreme focus on security. The media play up these matters too. This can lead to paranoia in some circles -- and also to xenophobia.