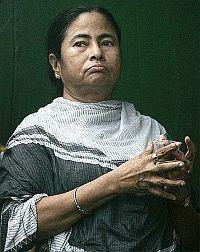 With the Gorkhaland agitation going slow following strong measures taken by the administration, the Gorkha Janmukti Morcha on Friday held out an olive branch to the West Bengal government, saying it wanted to clear 'misunderstandings' with it.
"There is no bandh now. We want to seriously run Gorkha Territorial Administration (hill council) without any disturbance for which we need the state government's help. We want to sort out misunderstanding with them," Morcha leader Harka Bahadur Chhetri said here ahead of a GTA meeting with Chief Minister Mamata Banerjee.
Asked about the demand for Gorkhaland, he said, "Gorkhaland is a different chapter. Now we will discuss GTA. Our main goal is to provide facilities to the people by running the GTA well. If the people are satisfied (with GTA), what can we say?"
Chhetri said that certain issues which were unsolved and created problems in running the GTA would be discussed with the chief minister.
He said that the issue of the release of arrested GJM leaders would also be raised at the meeting.
Image: West Bengal Chief Minister Mamata Banerjee