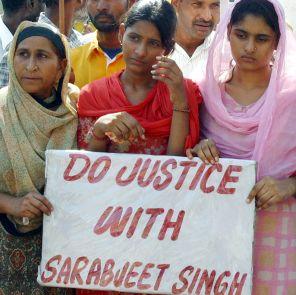 The prime suspect in the attack on Indian prisoner Sarabjit Singh had quarrelled with him a few days ago but Pakistani authorities at Kot Lakhpat Jail did not bother to take notice of the incident, official sources said Friday.
Death row prisoner Amer Aftab tried to attack Sarabjit a few days ago and abused him, the sources told PTI.
The reason for the altercation could not immediately be ascertained.
Aftab, who was being held in a barrack near Sarabjit's barrack in one of the most secure sections of Kot Lakhpat Jail, was among at least six prisoners who attacked the Indian national at about 4.30 pm.
Sarabjit was hit on the head with bricks and his neck and stomach were cut with blades, at least two sources told PTI.
One source said Sarabjit was attacked within his barrack.
However, unnamed officials of Kot Lakhpat Jail were quoted by Pakistani TV news channels as saying that only two prisoners -- Amer Aftab and Mudassar -- were involved in the attack.
The officials were also quoted as saying that Sarabjit was attacked when he and other prisoners were brought out of their cells for an hour-long break.
The sources rejected these claims and said Sarabjit was assaulted by at least six prisoners within his barrack.
Aftab, who was sentenced to death for murdering a mayor's brother, and Mudassar were locked up after the attack and were being interrogated, sources said.
Malik Mubashir, Deputy Superintendent of Prisons in Punjab province, was appointed to head the inquiry into the attack.
Mubashir would probe all aspects of the incident and ascertain whether some jail officials may have been involved or linked in any way to the attack on Sarabjit.
He will also ascertain whether the attackers were motivated by "religious elements", the sources said.
Sarabjit was admitted to the state-run JinnahHospital with a severe head injury this evening.
After a CT scan, he was kept in the hospital's intensive care unit and his condition was described as critical.
Authorities had tightened Sarabjit's security after the recent execution in India of Afzal Guru, who was convicted of involvement in the 2001 terror attack on the Indian parliament.
In January, another Indian prisoner in Kot Lakhpat Jail, Chamel Singh, died after allegedly being assaulted by prison staff.\
Though he died in mysterious circumstances, Singh's autopsy was performed almost two months after his death.
Sarabjit was convicted for alleged involvement in a string of bomb attacks in Punjab province that killed 14 people in 1990.
His mercy petitions were rejected by the courts and former President Pervez Musharraf.
The outgoing Pakistan People's Party-led government put off Sarabjit's execution for an indefinite period in 2008.
Sarabjit's family says he is the victim of mistaken identity and had inadvertently strayed across the border in an inebriated state.
Image: Family members of Sarabjit Singh hold a placard during a demonstration in Amritsar
Photograph: Reuters