By itself the 'Coffee With MLA' event may not amount to much, but what it indicates is a changing, assertive, public doesn't want to be taken for a ride anymore, discovers Rediff.com's A Ganesh Nadar.
IMAGE: Members of the public ask questions of 'MLAs' during an event in Chennai, March 19, 2017. Photographs: A Ganesh Nadar/Rediff.com
Arappor, a Tamil Nadu NGO, has two objectives. One, to fight corruption, and the other, to encourage citizens to participate in the democratic process.
Arappor says it is not enough to vote, a citizen must exercise the right to question one's legislator each time s/he does something citizens do not approve of.
With this objective in mind, Arappor organised a meeting in Chennai, which saw a turnout of almost 2,000 people -- couples, teenagers, the elderly.
At the registration desks, attendees were given two postcards, one addressed to the President of India to tell him if one was happy with the present government in Tamil Nadu.
The other was addressed to the local legislator and said: 'I would like to have coffee with you and also ask you a question.'
The event was meant to have legislators present to answer questions from voters.
No MLA turned up since recent political developments in the state have shown the political class in poor light and no politician apparently wants to be questioned over their role in it.
As no legislator turned up for the event, the organisers wore masks of various political leaders, and asked the people present to ask them questions.
The events following then chief minister J Jayalalithaa's death clearly have not gone down well with the voting public, and this was evident from the questions posed at the event.
Most attendees wanted to know what AIADMK legislators were doing at a resort near Chennai during the tussle for leadership of the party between V K Sasikala and O Panneerselvam, before the vote of confidence in the state assembly.
The 'MLAs' were asked why they did not seek the opinion of their constituents before deciding to opt for Sasikala.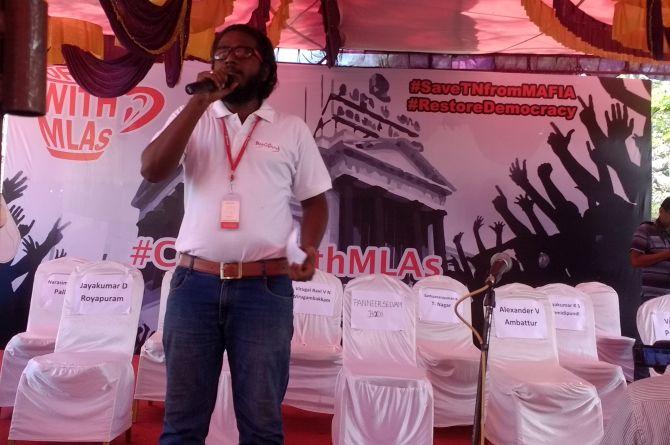 IMAGE: An organiser asks the attendees to start asking questions of their legislators, to be more assertive.
One voter wanted to know if his legislator was dead for he has not been seen in the constituency after the assembly election in May last year.
One speaker told the gathering that the Tamil Nadu government-run TASMAC, which has a monopoly on liquor sales in the state, was buying liquor from a company eventually owned by Sasikala, currently imprisoned in a Bengaluru jail.
Another speaker told the audience that while everyone voted, no one questioned MLAs, MPs or even ward councillors, and this had to change.
He asked the audience to inform Arappor if they spotted anyone distributing money for votes in the run-up to the April 12 by-election in R K Nagar, the late Jayalalithaa's constituency.
The public had a free run with the 20 volunteers on stage sporting masks of MLAs from various constituencies, including from both factions of the AIADMK as well as the Opposition DMK.
AIADMK 'MLAs', true to style, would start their replies with "In the manner of revolutionary leader respectful Amma followed by respectful Chinnamma I will say that..." as AIADMK legislators are known to do.
The one wearing the O Panneerselvam mask was asked: "Tamil Nadu has so many problems, but you never ran to Amma's grave but the minute your chair was taken from you, you went there straight and started meditating. You didn't think any other problem was worth meditating for?"
The question to the man wearing DMK leader M K Stalin's mask was about his torn shirt during his exit from the assembly during last month's trust vote.
"That's a very good question," 'Stalin' began. "In the manner of Anna and the path shown by the tireless work of Doctor Kalaignar (his father M Karunanidhi) I must tell you that in 1980..." before being cut short by the man who asked the question.
"I wasn't born then, I am asking about last month's events, not four decades ago," the questioner said.
When it was time for the 'MLAs' to leave, one of them stood and up and said, "You have always voted for me and never asked questions. What is this new habit of asking questions? This is not good. You must go back to your old habits of not asking questions."
By itself, the event may not amount to much, but what it indicates is a changing, assertive, public does not want to be taken for a ride anymore.
Arappor in Tamil means Dharma Yudh, and the movement the NGO has ignited is no less than a crusade.