The Election Commission has a fight on its hand as candidates use ingenious methods to smuggle in money to voters.
So far the EC has mopped up over Rs 53 crores from the poll-bound states, Tamil Nadu alone yielding Rs 21.45 crores!
Rashme Sehgal reports from New Delhi.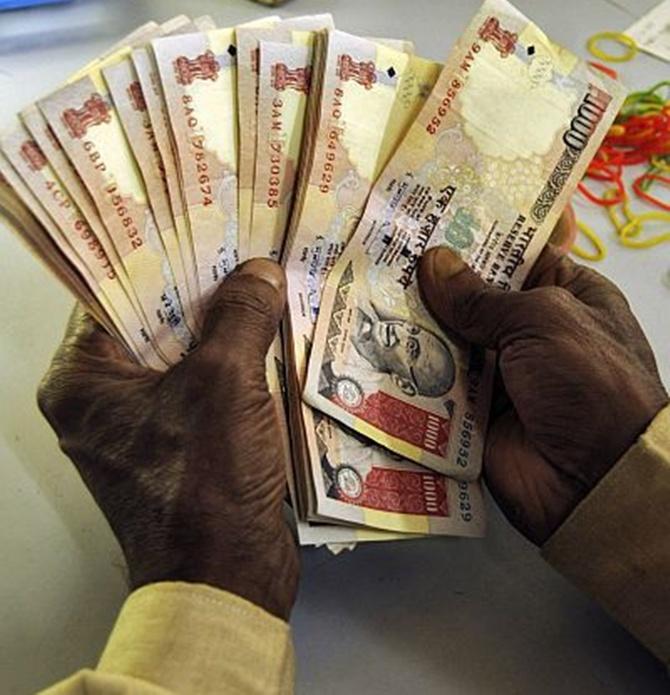 A cat and mouse game is being played out between the Election Commission and candidates fighting elections in Assam, West Bengal, Kerala, Tamil Nadu and the Union territory of Puducherry.
Candidates from the better endowed parties are willing to distribute gold, laptops, television sets, grinders and mixers, electric fans, blankets, saris, gas stoves, food grains, liquor, drugs and cash to voters while the job of the Election Commission-appointed Election Expenditure Observers is to make sure that the candidates' expenditure remains within permissible limits.
These Election Expenditure Observers are officers from the income tax, customs and excise departments along with members of the Narcotics Bureau and members of the central paramilitary forces.
This multi-layered surveillance team has also been divided into teams of flying squads with vehicles fitted with Global Positioning System.
The Election Expenditure Observers have seized Rs 53 crores (Rs 530 million) from these states.
The largest amount has been confiscated from Tamil Nadu from where Rs 21.45 crores (Rs 214.5 million) was seized, followed by Kerala with Rs 9.65 crores (Rs 96.5 million) and West Bengal with Rs 9.61 crores (Rs 96.1 million). Puducherry recorded seizures of Rs 60.88 lakh (Rs 6.088 million).
The Election Commission knows the money confiscated so far is insignificant because the amount of illegal money being used in these elections is much higher.
The Reserve Bank of India rang a warning bell when it recently stated that there was a surge of Rs 60,000 crores (Rs 600 billion) in cash in the states going to the polls.
'Around election time, cash with the public does normally increase... You can guess as to the reasons why, we can also guess,' RBI Governor Dr Raghuram Rajan pointed out.
'You see some (cash surge) not just in the states going to elections, but also in the neighbouring states. There is something... we need to understand it better,' Dr Rajan said, adding that cash in people's hands has currently gone up by more than Rs 60,000 crores, which is 'not normal.'
This had Chief Election Commissioner Dr Nasim Zaidi shoot off a letter to Dr Rajan to go public with the details. "We have written to engage with the Reserve Bank of India," says Dr Zaidi. "We have requested them to provide inputs for us to take action."
While the CEC awaits the RBI governor's reply, former CEC V S Sampath sums up the current situation thus: "Rs 53 crores out of Rs 60,000 crores does not seem like a big amount of money seized, but ours is a mammoth task. We have only have two-and-a-half weeks time to lay our hands on this unaccounted money."
"We try and choke the supplies of this cash, which means we often have to resort to stringent measures and have therefore been accused at times of interfering with trade and commerce," Sampath says.
"During this period," Sampath adds when asked how exactly the Election Commission follows this money trail, "we look at candidates and parties who while campaigning are in excess of perceptible limits. We often stop cars being used by candidates because the money has to be physically carried to the voter."
"The money confiscated is largely black money," says Dr Zaidi. "We have to keep a tab on the movement of money, whether it be foreign currency or the hawala racket. Foreign currency is brought in from Bangladesh and the Gulf and income tax officials monitor this very closely."
Election Commission sources point out that with bank transactions, as also the physical movement of cash, being closely monitored by income tax officials, especially with its Air Intelligence Unit keeping an eye at airports and the police checking vehicular movement at borders, hawala remains the preferred means since this does involve the physical movement of cash.
"We try and make sure candidates follow expenditure limits. They need to maintain expenditure records which are monitored three times during the current elections," Dr Zaidi points out.
"In the past," the chief election commissioner adds, "we were able to contain muscle power. Now we are trying to contain money power by keeping an eye on money transactions, liquor, gifts and bullion recovery."
The expenditure limit in the 2013 Delhi assembly elections was Rs 14 lakhs (Rs 1.4 million). The expenditure limit per candidate in the 2015 Bihar assembly election was Rs 28 lakhs (Rs 2.8 million), which remains the same for the current round of elections. In the 2014 Lok Sabha election, Rs 70 lakhs (Rs 7 million) was the expenditure limit for a candidate.
State elections have become an expensive business. Apart from major expenses which include fuel, hiring of vehicles, loudspeakers, board and lodging, there is the tedious task of preparing and distributing voter slips, getting voters to polling booths and also hiring film stars to attract larger crowds.
Candidates continue to use all kinds of tricks to win over voters. Recently, more than a hundred pair of silver anklets, weighing a total of six kg and reportedly worth Rs 3 lakhs (Rs 300,000), were confiscated in Tamil Nadu when they were being distributed along with photographs of Dravida Munnetra Kazhagam leaders M Karunanidhi and his son M K Stalin.
"Very often the tipoff comes from a rival party which closely monitors what their political opponents are up to," says a senior Election Commission official. "Once we receive a tipoff, we send a team to investigate."
Will this extra surveillance change the situation on the ground?
The Bihar assembly election should give an indication as to how important the role of money power is in winning over voters.
In the 2015 polls, the Election Commission recovered more than Rs 20 crores (Rs 200 million) while it seized over Rs 4 crores (Rs 40 million) in unaccounted cash during the 2014 Lok Sabha election.
The Law Commission submitted a report to the government recently describing ingenious methods used by candidates which included putting currency notes in containers which were smuggled into trucks and cars from where they found their way into wholesale and small retail firms. These firms have staff who will stuff these notes into suitcases to distribute them to voters.
Former chief election commissioner S Y Quraishi has written about black money being used to influence voters in his book, An Undocumented Wonder: The Making of the Great Indian Election , in which he describes a variety of methods being employed by politicians and political parties to get gifts and money to the voters' doorstep.
So rampant is this practice that a cable sent on May 13, 2009, which was revealed by WikiLeaks (external link here), saw an American diplomat Fredrick Kaplan spell out the role of black money.
'Bribes from political parties to voters, in the form of cash, goods, or services, are a regular feature of elections in South India,' the cable said. 'Poor voters expect bribes from political candidates, and candidates find various ways to satisfy voter expectations.'
'From paying to dig a community well to slipping cash into an envelope delivered inside the morning newspaper,' the cable added, 'politicians and their operatives admitted to violating election rules to influence voters.'
What happens to this confiscated money?
"The hawala money is handled by the Enforcement Directorate," says Dr Zaidi, "the other confiscated money is handled by income tax officials. It is all deposited in the treasury. If people from whom the cash is seized are able to provide the necessary documents, the money is released to them within 24 hours. The Narcotics Bureau looks after drugs seized. In all, there are one dozen government agencies involved in the process."
The amounts of money being seized is getting larger. In the 2009 Lok Sabha polls, Rs 39 crore (Rs 390 million) was confiscated in Tamil Nadu. That went up to Rs 60.1 crores (Rs 601 million) in the 2011 assembly polls, and in the 2014 Lok Sabha polls, nearly Rs 77 crores (Rs 770 million) was confiscated.
This rising curve is reflected across all states and the main reason for this is that the stakes in our elections are getting higher and higher.
Image published only for representational purposes.