Rare glimpses of Rashtrapati Bhavan. Kind courtesy: Architectural Digest India.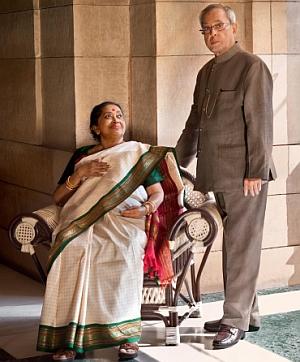 Very rarely does one get a glimpse inside the architectural marvel that is Rashtrapati Bhavan.

In its latest issue, Architectural Digest India magazine has featured President Pranab Mukherjee's home and office.
Please scroll down to see the photofeature, published with the kind permission of Conde Nast India, the magazine's publishers. Photographs: Derry Moore/Architectural Digest India.


The Royal Ballroom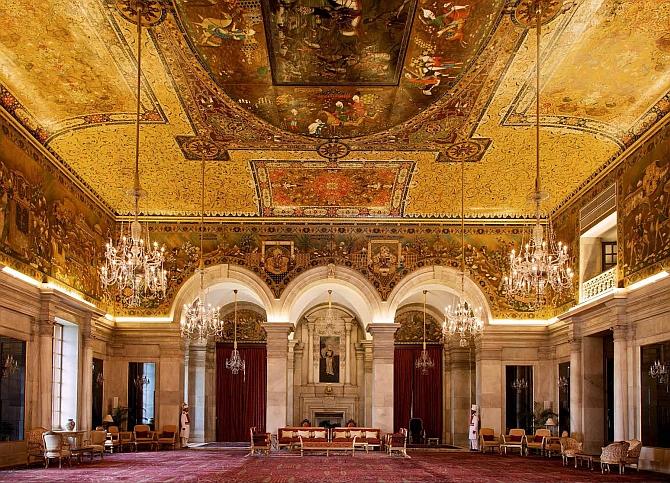 Ashoka Hall was originally used as a ballroom. The central mural on the ceiling was presented by the Persian ruler Fateh Ali Shah Qajar to King George IV. In 1929, it was presented to the Viceroy of the time, Lord Irwin.
The paintings around the sides were commissioned by architect Edwin Lutyens and executed by Indian painters. Balconies overlook this grand hall, influenced by the palaces around India where queens watched important public proceedings behind the purdah.
The carpet, with a cypress pattern, was woven by carpet makers from Kashmir.

Golden Archway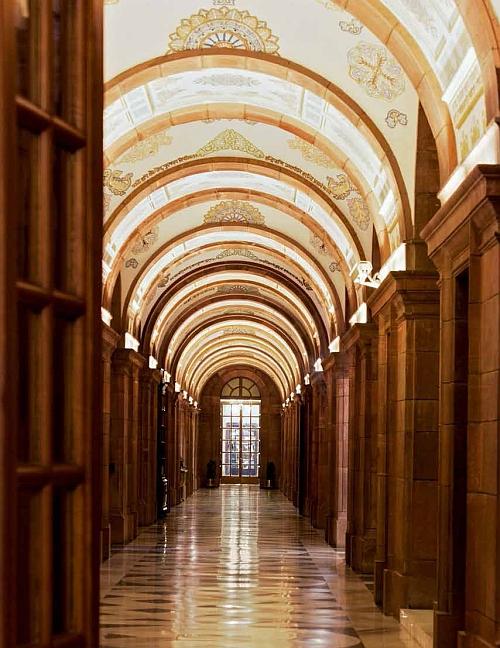 T
he sweeping strokes of this patterned, inlaid floor provide sharp contrast to the finely gilded ceiling, which was hand-painted by skilled artisans. This corridor is one of many passages that link the rooms of this imposing residence.

New Vintage



The only piece of period furniture in the wood-paneled bedroom is the chair with a backrest carved in the pattern of a spider's web, designed specially for this house. The bed, tables and lamps are later additions.

The President's Space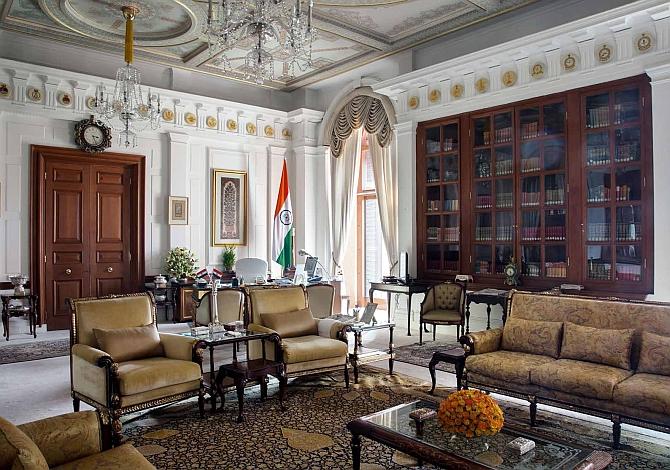 The President's personal study is on the ground floor, and looks out on the expansive garden. The ceiling is painted in intricate patterns, and from it hang equally intricate chandeliers.
The glass-fronted bookshelves house rare volumes. The elaborate, handwoven carpets -- woven in the early- to mid-1920s in Kashmir -- cover the patterned stone floors.

The First Couple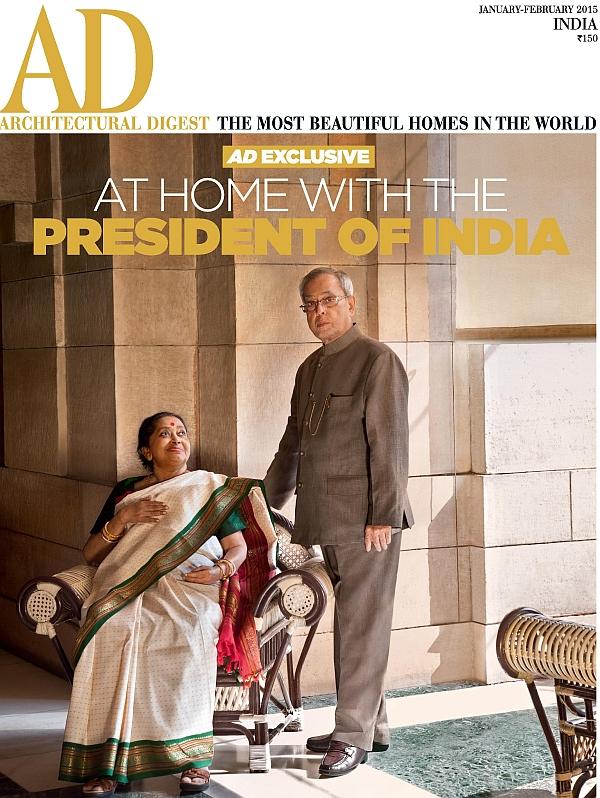 President Pranab Mukherjee with the First Lady, Mrs Suvra Mukherjee, in their personal wing at Rashtrapati Bhavan.
Did You Know?
Rashtrapati Bhavan has 340 rooms which have the President's office, guest rooms, halls and offices.
The structure was designed by the well-known architect Sir Edwin Lutyens.
Dr Rajendra Prasad became the first President of India on January 26, 1950, and it was then that the building was renamed Rashtrapati Bhavan.
This four-storey mansion has been built using 700 million bricks. Three million cubic feet of stones was used in its construction.
When A P J Abdul Kalam was President, a small hut was built in the premises of the Rashtrapati Bhavan. Kalam used to spend his free time here. The hut was demolished later.
Raisina Hill, the area which houses the Rashtrapati Bhavan, gets its name from Raisina and Malcha villages which were cleared to make way for Rashtrapati Bhavan.