Let me be honest. I had very little expectations from this week's release, The Stoneman Murders. But I was pleasantly surprised with what I saw.
The film is based on a series of murders in 1983, where the killer -- nicknamed the Stoneman -- killed beggars in a gruesome manner.
Writer-director Manish Gupta does a wonderful job in telling the story, which has a very realistic touch. Despite being a murder mystery, Gupta avoids gore and bloodshed, and makes it  visually appealing.
The story keeps you on the edge of your seat, occasionally sending a chill down your spine. The second half is engaging, as you can't help but wonder who the murderer really is. The climax, however, is predictable.
Sanjay Shelaar (Kay Kay Menon) is a hot-headed dead-against-crime kind of policeman. He does not get along with Kedaar (Arbaaz Khan), another police officer. Due to some events, Sanjay gets suspended leaving the pattar-maar case under Kedaar's charge. But his senior Satam (Vikram Gokhale) unofficially lets Sanjay continue his investigation and try to save his job.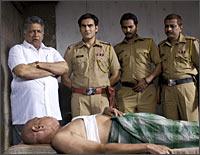 The entire film is shot in the night and the lighting is perfect. The cinematography is very good as well.
Kay Kay puts in a great performance but Arbaaz really needs some serious acting classes. He has few lines but his dialogue delivery needs a lot of improvement. Vikram Gokhale and Virendra Saxena excel in their parts.
The chemistry between Sanjay and wife Manali (Rukhsar) is average, with some forced sensuality from the latter.
Music usually plays an important factor in thrillers, and I have to give full marks to the background score. The item number, however, is uncalled for, and ruins the pace.
The Stoneman Murders is worth a watch but one wonders how it will survive the weekend, thanks to the other Friday release, Billu.
Rediff Rating: