'At the end of the day, this is Bachchan's film.'
'Despite the distracting makeup, his famous baritone and indisputable flair for dedicated inanity lend Mirza an air of significance,' observes Sukanya Verma.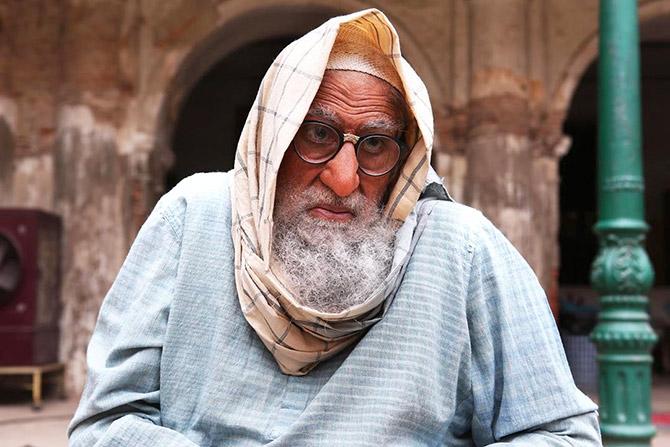 Gulabo Sitabo is set in the city of Nawabs.
But neither glory nor grandeur are the focus of its prickly world or sparring occupants.
The Lucknow in Shoojit Sircar's whimsical satire is familiar but fading and concerns itself with people at the fringes.
Written by Sircar regular and Lucknow native Juhi Chaturvedi, the script doesn't inhabit the milieu as much as it appears to be swept away by it, dropping neighbourhood names for everything from analogy to flavour. This monotony never once creeps in Avik Mukhopadhyay's lovingly shot portraits of its decrepitude and crumbling even when the film looks its most touristy.
Sircar's storytelling is meditative in nature, his trademark pensiveness and enigma envelop Gulabo Sitabo and yet, leaves ample space for wit and oddity.
Named after the quarreling stars of Uttar Pradesh's puppetry theatre, their war of words is personified in Chaturvedi's take on the age-old landlord-tenant hostility.
A ramshackle haveli's owner and his tenants are continuously at odds over rent and repairs, a status quo that is further escalated after a toilet wall collapses.
Mirza, played by Amitabh Bachchan, in a prosthetic nose and hunchback posture, is the sort of cheapskate who will sell bulbs to make money whereas renter Bankey Rastogi (Ayushmann Khurrana) instructs his kid sister to fake fever and put off payment.
A TV screen airing an episode of Tom and Jerry aptly underscores the nature of their bantering camaraderie.
Except Mirza is a real mouse around Begum (Farrukh Jaffar, the uncrowned queen of snappy repartee receives top billing and scene-stealing lines) his doddering wife, almost two decades his senior, and the haveli's actual owner. Her tolerating a battery of tenants sponging off his cherished abode for a pittance and exceptionally long life irks the old man no end.
But Mirza's mind works as shabbily as he dresses and his pursuits to become lord and master draw the unwanted attention of a sneaky archaeology official (Vijay Raaz) as well as the services of a resourceful legal eagle (Brijendra Kala).
Between the ensuing circus of redtapism and property sharks over who will inherit the property and who can get money or mileage out of it, Gulabo Sitabo wanders off to fleetingly peek into the dreary, disappointed lives of the people caught in an uproar.
Rebuked by his practical girlfriend and chided by his sisters, 'Dadda tum na private centre bhar do. Hum sab milke padha denge,' Bankey's profession -- running a flour mill shop indicates the sort of sad 'chakki peesing' future Veeru shuddered about in Sholay.
While Gulabo Sitabo neatly fleshes out Mirza's motivations, Bankey's disquiet is terribly sidelined.
Khurrana is a veteran at expressing small-town angst and knavish tricks by now.
It is his comfort at darting disrespectful barbs at Mirza what you truly enjoy.
Kala and Raaz hold their end of the bargain but at the end of the day, this is Bachchan's film.
And despite the distracting makeup, inspired by an illustration from a Russian artist, Olga Larionova, his famous baritone and indisputable flair for dedicated inanity lend Mirza an air of significance, even when his actions do not.
It is also nice how Sircar doesn't make a fuss about his lisp (mil raha hai becomes mill-la hai, deewar is deewal), Mirza-Bankey's Hindu-Muslim identities or his smartass sister's defiant promiscuity (a terrific Srishti Shrivastava) wherein she emerges as the only other individual in charge of her life alongside the inimitable Begum.
Apart from fallacies of nostalgia, antiquity and moh-maya, Gulabo Sitabo makes a profound case for it is never too late to walk out.
The payoff comes belatedly and bizarrely, but it is of far too much value to ignore.
Told unhurriedly and wistfully, Sircar's drama and humour pauses and pontificates almost privately.
It is a tad infuriating because you crave access.
But the laughs never stop and the layers never taper off lending its farcical situation a relevance whose wish to be understood without uttering a word you completely respect.
What it lacks in intimacy, it makes up in intrigue.
For too long, characters move around in fascinating circles until they find validation that brings to fore Gulabo Sitabo's afterword on opportunism and avarice.
The course of its parable doesn't always run smooth, but the aftermath of sadness it leaves behind comes from a place of truth.
Gulabo Sitabo is streaming on Amazon Prime Video.
Rediff Rating: