When the temptress dons the purdah...
George Iype in Kochi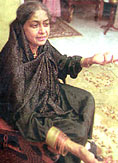 She has been Madhavikutty to Malayalee readers and Kamala Das to her English fans. But on Monday, a servant tore down the nameplate on the door of her flat in the Royal Stadium apartment at Kadavanthra in Kochi.
Soon the 67-year-old poetess' new nameplate will be put up with Kamala Surayya embossed on it. "I will be Surayya to Malayalee readers. I will be Kamala Surayya to the English-speaking world," the neophyte elatedly exclaimed.
Once again Kamala Das has sent shock waves through the straitjacketed Malayalees. But this time it is not through any sex-oozing autobiography or nude paintings.
Kamala Das, poetess, activist and feminist among a lot of other things, has become a Muslim. "Look at me. Am I not ebullient with happiness, with joy and zest for a life with Allah?" Surayya says, radiating the thrill of a new discovery, of new horizons opening up.
For her, Madhavikutty no longer exists. "Yes, the controversial Madhavikutty is dead. This is the last time I am shocking you all," she explains.
Clad in a black purdah and her hands adorned with colourful bangles, Surayya has these days become a student again. A Muslim girl has started giving her lessons in Arabic. She has shifted all the Hindu idols in her home, including her intimate ''friend and love'' Lord Krishna to the guestroom. Saying namaz five times a day has become a regular feature. Her formal initiation into Islam will take place in front of the Muslim clergy at Palayam mosque in Thiruvananthapuram on December 23.
Surayya cannot subdue the excitement of embracing a new religion. She is today the perfect Muslim host to the innumerable well-wishers and Muslim leaders who throng her modest apartment. She has been a vegetarian all these years. But that does not deter Surayya from serving non-vegetarian food to her guests.
But what lured her to Islam? "Two plain reasons. One is the purdah. Second is the security that Islam provides to women. In fact, both these reasons are complementary," she says. " Purdah is the most wonderful dress for women in the world. And I have always loved to wear the purdah. It gives women a sense of security. Only Islam gives protection to women. I have been lonely all through my life. At nights, I used to sleep by embracing a pillow. But I am no longer a loner. Islam is my company. Islam is the only religion in the world that gives love and protection to women. Therefore, I have converted," Surayya makes her point.
However, her friends disclose two entirely different reasons that forced Kamal Das to convert to Islam. One, she is in love with a Muslim whom she will marry soon. Second, she wanted to please film-maker Ismail Merchant who is reportedly making a film based on her controversial biography My Story.
But Surayya agrees and disagrees. "It is true that I am in love. I am in love with a person. Only four persons know my mobile number. My three sons and my lover. I plan to marry him in six months," Kamala Das says, blushing all the while. She does not disclose whether her lover is a Muslim or not. She refutes the rumour that Merchant is making a film on her. "It is not Merchant but the Canadian director Arni Galbert who is making a film on my life," she says.
For Kerala's most famous poetess, conversion to Islam arose out of conviction and was not a sudden decision. She says the "idea" to convert had been there in her mind for the last three decades. It had been churning in her mind. For many days prior to her formal announcement in this regard, Kamala Das has been meeting Muslim religious scholars and women members of the community in Malappuram, the state's pre-dominant Muslim district.
"I kept my desire a secret for long. But now the time has come when I can no longer remain a Hindu. I hate being cremated as a Hindu. I love being buried as a Muslim," Surayya says in a serious tone.
But hasn't her decision shocked her friends in particular and Malayalees in general? "I don't care. I always believe I am what I am," she says adding "enough is enough in Hinduism."
Even in conversion, Kamala Das has been true to form. She has been shocking the conservative Malayalee world for many years now. It all began with her autobiography -- My Story -- that was serialised in the Malayala Nadu weekly. In it she told the story of her sexual life, her relationship with men and her views on the world. My Story gave her the image of being an amoral woman. But it was a huge success and has been published in more than 15 languages. It is now a school textbook in Japan and Canada.
Though her first literary creation was ridiculed, Kamala Das became a writer of substance and emotions, of love and eternal sorrow. But many say some of her writings became controversial because they were erotic and sexy. She has been a rebel in her writings. Her writings were meant to explode the hypocritical social life of Kerala.
Some of her prominent works in Malayalam include Mathilukal, Narichirukal Parakumbol, Manasi, Balyakalasmaranakal, Neermathalam Pootha Kaalam and Ottavadipatha.
But to the non-Malayalees, Kamala Das is known because of her English poetry. The most famous among them are Summer in Calcutta, Alphabet of the Lust, The Descendants, Old Play House and Only the Soul Knows How to Sing. She was awarded the Asian Poetry Prize for her anthology The Sirens in 1964 and the Kent's Award for Summer in Calcutta in 1965. In 1969, her short story Thanuppu was adjudged as the best by the Kerala Sahitya Akademy. Her book on childhood memories -- Neermathalam Pootha Kaalam bagged the Vayalar Award in 1997.
But she didn't limit herself to writing. In the 1970s, Keralites saw Kamala Das enter politics with a campaign for an indigenous green movement. She contested the assembly elections, traversing the countryside, asking for votes from the people in the villages. She lost, but that did not deter her from kicking off another controversy -- painting nudes.
When she released her first nude painting in the 1980s, she proclaimed: "I find the nude female body the most beautiful in the world."
But won't she be forced to make compromises in her new religion? Will Islam tolerate her controversial past? "Religion cannot chain one's creativity. Islam is tolerant. Allah is the God of love and forgiveness. My mind tells me Allah has forgiven me my sins, if they were sins," Surayya says.
Will the traditional Muslims accept her? "Why not? They will, I am sure," she says.
Was she uncomfortable with Hinduism and Hindu gods? "Hindus have abused and hurt me. They have often tried to scandalise me. I cannot repose faith in Hinduism because Hindu gods never forgive. They only punish," Surayya fumes.
But won't Islam restrict her? "No religion can restrict me. I am always myself. I love being a Muslim now, and it does mean that I will always speak truth."
Will she continue to write poetry and paint nude pictures? "I am about to complete a book on the new millennium. I will start writing poems and prose on Allah and Islam. Allah will henceforth inspire my creativity whether it is poetry or paintings," she predicts.
But how long the unpredictable poetess will continue to live under the restrictions imposed by Islam is anybody's guess.