'Why don't they suggest artificial intelligence training for SC/STs?'
'Why can't they be trained in computer programming?'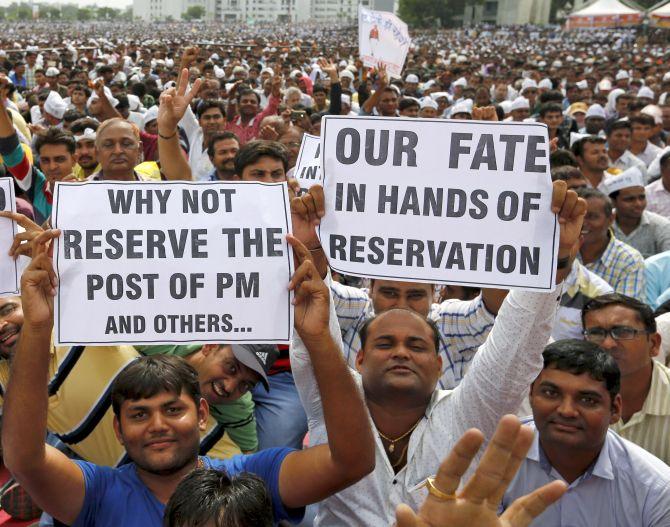 The Viduthalai Chiruthaigal Katchi is a Dalit-focused party in Tamil Nadu, much like the Dalit Panthers of India elsewhere. It was founded in 1972 by lawyer Thol Thirumavalavan and the party has a strong presence in the state's Vanniyar belt and is often at loggerheads with the Pattali Makkal Katchi, a Vanniyar party.
At the same time, the traditional rivals have been known to work together when both are aligned with the same Dravidian major in an election. Thirumavalavan himself has aligned with both the DMK and the AIADMK at different times.
In the May Lok Sabha election the Viduthalai Chiruthaigal Katchi aligned with the DMK and won both seats allotted to it. Thirumavalavan won from Chidambaram while D Ravikumar won from Villupuram.
Ravikumar, below has no airs about him, a good sense of humour, and an open mind.
"More people might come forward to be removed from caste-based lists. Finally, there will be no reservations. I don't know how long it will take, but it will happen one day," the first time MP tells Rediff.com's A Ganesh Nadar.
SC/ST members are there in every political party, why do you feel you can do more for them in the VCK?
Every party has its own constraints and priorities. There are no such constraints in our party. I certainly feel I can do more for the marginalised in this party.
You met Finance Minister Nirmala Sitaraman to increase the financial support for SC/ST welfare. How did it go?
She was very polite. She showed great concern when she talked to us. But I think she cannot do anything on her own.
The allotment for SC/ST communities in 2018 was Rs 6,000 crores (rs 60 billion) and 2019 it was drastically slashed to Rs 2,900 crores (Rs 29 billion).
She really wanted to help, but could not.
You have started a scholarship for SC/ST women and also built a hostel for them. Is this from your MP fund? If so, what will happen to it after your MP period?
I built the hostel with my salary. The Savitri Phule scholarship was also from my own money. My friends have committed to continue it after my MP tenure.
Do you believe that skill-based training offered by the government is caste-based?
As an MLA I was in the standing committee for Adi Dravidar skill development. I believe in comprehensive development. With the help of the CII (Confederation of Indian Industry) we set up a skill training centre in Cuddalore district. ISRO helped and 29 skills were there for our people to learn.
Why don't they suggest artificial intelligence training for the SC/ST members? Instead of typing, why can't they be trained in computer programming?
You dream of a caste-less society, but for that you have to first abolish reservations. Do you think people will agree to it?
You must have read the news. In Tirunelveli district Dr K Krishnaswamy (of the Puthiya Tamizhagam) and seven communities who are in the SC list have asked to be removed from that list. They want to be known as Devendra Kula Vellalars.
More people might come forward to be removed from these caste-based lists. Finally, there will be no reservations. As it is, reservation is only in government jobs.
I don't know how long it will take, but it will happen one day.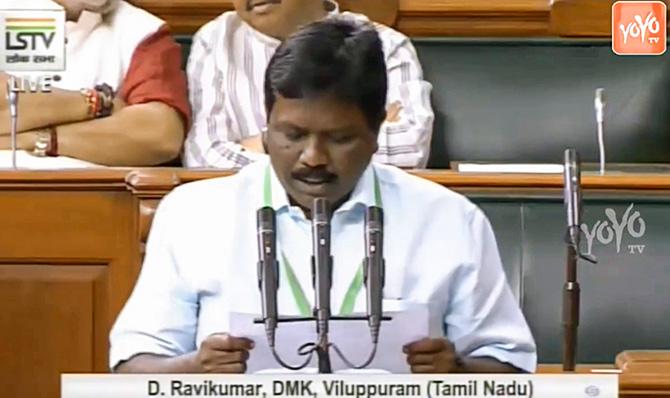 'Flats for Brahmins only', said an advertisement in Chennai recently. In Mumbai I have seen ads like 'flats for vegetarians only'. What is the solution to this exclusivity?
In these modern times this is amazing. 'Flats' means it's for financially well off people. These are educated people behaving badly.
The barriers are in the minds of people. Only if we can change people's thinking will this problem be solved.
As a child you were taught 'there is no God'. Do you still believe in it?
Yes, I still believe there is no God. I am an atheist.
Is it true that in your childhood your commute to school took five hours?
Not the commute, it was the waiting that took that much time. I studied in Chidambaram and used to take a train from my village at 7.30 am. I used to reach the school at 8 am even though it started only at 10 am, as there was no train after that before school time.
Going back home, again if I missed the 5 pm train the next one was at 6 pm.
You started your political career after being influenced by Ccommunism. Why did you leave that path?
I started my political career in the Dravida Kazhagam (forerunner to the DMK). I was a students union secretary in college. I studied philosophy at Annamalai University and had to study Marxism in that course. I liked it and my leaning was towards Communism.
I drifted away from them as I realised that Indian Communists were very far from Marxist philosophy.
You were an activist. What field did you work in?
I was fighting for human rights and initiated a campaign against the death penalty. It started when we were protesting against custodial deaths, an issue at that time.
Does Navayana, your publishing business, publish only your ideology or is it a commercial venture open for all?
I was one of the publishers with my friend Anand and we mainly published books on anti-caste issues. Now Anand manages that.
Your Tamil research journal, Manarkeni, what kind of research do you publish?
We publish classical literature, epigraphy, we encourage new thinkers and also translations.
You are said to be an author, could you tell me a few of your titles?
Kankanippin Arasiyal, Vidiyal Pathipagam, Kothippu Uyarndu Varum, Kalachuvadu, Kadakka Mudiyatha Nizhal. I have also translated many novels and poems.
Is it true that you translated French novels into Tamil? How many languages do you know?
I only translated books by French authors, but the language was English.
What happened to the private member's bill you introduced in Parliament for data protection and privacy?
It is still in the introduction stage and a lot depends on the Aadhaar judgment. You know that Aadhaar data has been shared, which I am totally against.
There are airports in Chennai, Tiruchi and Pondicherry and you are asking for another airport in Villupuram.
During World War II there was an airstrip in Ulundurpettai in my constituency, it was the biggest airstrip in South Asia, but is now lying abandoned. I requested them to rebuild that place under the Udaan scheme.
You live in a state ruled by the film industry for the past 50 years and a nation driven by right wing politics. Where do you see yourself in this picture?
The country is not for them only. We are atheist and they cannot push anything on us.
Coming to Tamil Nadu, talking movies started in 1931 and most were based on religious mythology. Krishna Puranam was a favourite.
You must see the parallel between religion and films, both depend on festivities. In 1949 C N Annadurai and later M Karunanidhi realised that they can create social awareness through films.
The theatres became the new temples, the actors became the new Gods. If you go to any new release you will see them doing paalabhishekam, camphor burning and everything that you do in temples.
There is no contradiction between festivals and films.
They voted for these new Gods and thus you say the film industry is governing Tamil Nadu.
Without MGR, Jayalalitha, Annadurai and Karunanidhi, do you think the film industry's dominance over politics will end?
Film politics will continue. One side will keep mentioning MGR and Jayalalithaa and the other side will continue with Anna and Karunanidhi.
Then you have Kamal Haasan, Vijaykanth, Rajnikanth, Seeman and various other stars making political statements.
The saga will continue as they will find new Gods.